UPC 750839019000
$495


Upgrade Options
View Product Demo
Download Free Trial Version
View Samples
Compare Products
What's New in 2014?
Professional Home Design Software
Home Designer Pro is professional home design software for the serious DIY home enthusiast. Enjoy the same tools that the professionals use for home design, remodeling, interior design, decks, landscaping and cost estimation.
Home Designer Pro offers advanced design, building, and tools with the ability to create framing plans, roof plans, to produce construction documents.
Create your dream home today with the help of Home Designer Pro!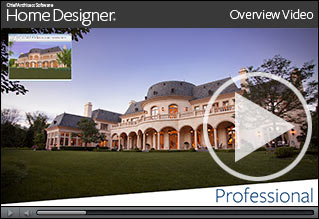 Professional Home Design, Interior Design & Landscape Software
Home Designer Pro makes it easy to design and visualize your ideas on your next home or remodeling project with over 8,000 powerful integrated tools. Use the automated building tools to assist you in your design process. The tools have commonly accepted defaults for most building practices to help you in your home design projects. Create accurately scaled floor plans that automatically generate 3D models in minutes.
– Create the Virtual Look and Feel Before You Build!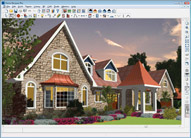 3D Home Design Software by Chief Architect
Over 5,000 Sample Plans for design inspiration
Choose from built-in style templates or create your own custom home design, or use the House Wizard™
Powerful building tools like automatic roof generation, dormers, stairs, framing and foundations
Artistic rendering techniques for Watercolor, Glass House™ and Technical Illustration
Advanced 3D camera tools like Glass House™, Doll House™, Framing, Elevation and Cross-Sections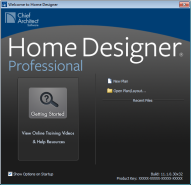 Get Started Quickly & Easily
The Quick Startup Options Guide will help you begin with "How-To" tutorials based on your type of project
Use the House Wizard™ for quick and easy layout of your rooms
Select from the pre-designed Home Design and Landscaping Style Templates complete with colors, cabinets, decks and more
The online help system provides detail information on all types of building projects
Includes over 90 easy "step-by-step" tutorial videos that will quickly get you started on your next home design project
3D Home Design Tools
Design in 2D and 3D. 3D Views are automatic with a point-and-click of the camera tool.
Glass House™ View provides a full translucent view of your design. Choose other Artistic rendering techniques for Watercolor and Technical Illustration views.
Doll House™ View, a 3D overview without the roof, is an effective tool for space planning of furniture placement and traffic flow
Create a Virtual Tour – draw your record line to Automatically Generate; or record your camera movements
Visualize your home with day and night views
Assemble a scale model of your home design with Model Maker™
Generate shadows from the sun for realistic 3D views
Point-and-click to remove wall surfaces, or use 3D Cross-Section Elevation Slider™ to quickly create a 3D slice of your desired view
Automated & Manual Building Tools
Design roofs and walls in 3D
Automatic & Manual Roof tools - hip, gable, gullwing, salt box, shed or manually design a custom roof
Use the Automatic Dormer tool to quickly place dormers – shed, gable, eyebrow and barrel
Automatic Structural Dormers
Unblock and manually edit Automatic Dormers
Create any custom roof or ceiling plan with the Roof Design Tools. Edit and create roof planes to create a roof of any pitch and shape. Start with an automatic roof and then add custom details, or create the entire roof manually.
Automatic framing tools
Manual framing tools for fully editable framing, including joists, rafters, trusses, posts and beams. Choose structural or engineered lumber
Choose from several built-in wall styles with individual wall layers or define your own wall style
Ability to read and edit files by Chief Architect® Full Professional Software
ICC Residential Design Checklist will allow you to check your plan against national building codes
Kitchen & Bath Design
Design the kitchen of your dreams – move walls, create new cabinets, add appliances – Design your perfect workspace!
Create virtually any cabinet style with the Cabinet Designer tools and use the Material Painter to change the wood-style and colors
Create custom cabinets in minutes by choosing your own colors, countertops, door styles, backsplash, counter edge, crown molding, base molding and hardware
Plan the new layout of your bathroom with custom cabinets, sinks, showers and garden tubs
Choose from a Library of fixtures and appliances and place inside or adjacent to cabinets
Smart cabinet objects know how to bump, merge countertops, and create fillers automatically
Create custom shaped countertops
Choose from thousands of appliances, sinks, fixtures and kitchen islands
Elevation camera tools for details and technical views
Interior Design
Give your home the exact look and feel you desire – visualize new styles, colors, wall coverings, flooring, and other materials
Plan your space with 3D models, virtual tours, and advanced design tools. It's easy to make your design ideas come to life
Choose from a variety of latest interior items – including cabinets, chairs, tables, sofas, fabrics, and accessories. Resize, change colors and materials to meet your exact needs
Import your own symbols from 3D file types including SKP, DXF, OBJ and 3DS
Choose Pre-arranged furniture groupings that are already assembled to help quickly layout rooms kitchens, bedrooms, offices, and kid's rooms
Choose from thousands of colors and textures or create your own materials using a digital photograph
Material Painter® allows you to change the color and material of any object in your design – cabinets, countertops, walls, and flooring. Choose one of name-brand colors from Sherwin-Williams, Benjamin Moore or Behr and apply as a stain or solid color
Smart Design Objects, Drag-and-drop from thousands of design objects in the built-in Library organized by category
Design for your lifestyle and personality – change colors, add lighting and choose furniture to accent your new room
Decks & Landscaping
Get started quickly with templates for landscapes, decks, patios, and pools
Design straight, curved, single level, multi-level, or stepped decks
Control the orientation and size of deck planking, gap, width, overhang, direction, and border planks
Automatic deck framing provides the structural components and foundation supports
Estimate Costs, such as deck posts, planking, framing and concrete
Generate cut and buy lists for your decking projects
Deck foundations automatically generate to match sloped lots
Plant Encyclopedia to learn more about the plants in your designs
Choose from over 3,600 plants with the Plant Chooser™
Plant Hardiness Zone reference maps
See what your plants will look like in 0 – 20 years
Pathways – Use the Pathway tool to design curb-appealing landscaping using stone, pavers, or sidewalks – line with trees, shrubs, flowers and more
Create a custom Pergola, Patio cover or Deck cover
Site Planning & Estimating
Use Automatic Build Terrain and Terrain Perimeter tools to create flat, irregular shaped, or sloped lots – use a GPS to import or enter elevation data
Create plot and perimeter plans; automatically generate a 3D model of your actual terrain
Export Material List to spreadsheet programs including Microsoft® Excel
Save snapshot Material Lists for different stages of the project
Add detail to each individual component in the material list for a comprehensive cost estimate breakdown
Master Materials List allows you to store and manage commonly used material prices
Sprinkler Designer™ tools to easily layout sprinkler zones
Fences and Driveways – With the Fencing tools you can choose a variety of fencing styles and custom gates. You will also find driveway, sidewalk and curbing tools
Hill and Valley tools make it easy to add gardens, beds and slopes that automatically appear in 3D views. Choose from landscaping style templates or create your own.
Define Terrain Elevation lines, Elevation Regions and Terrain Breaks
CAD Tools
Powerful CAD tools to detail cross-section views with insulation, cross-boxes and more
Advanced CAD editing tools such as replicate, line weights, point-to-point move, custom patterns and more (Compatible with AutoCAD® patterns)
CAD-to-Walls™ allows you to convert CAD lines from DXF file format to walls
Layers can be used to separate key building components such as electrical or framing. Display or hide features of your design, set colors, lock layers and use reference layers for precise editing.
Create Back-Clipped Cross Section/Elevation Views to limit your view to relevant details for precise plan editing
Building Tools
Customize construction methods for walls, floors, ceilings and foundations. Identify the exact placement of framing components, specify wall layers, floor structure platform height, mudsills and more.
Advanced stair and ramp tools allow control of shape, starter treads, flaring, tread width and more
Create pony walls and edit wall shape or create a stepped foundation in cross-section view
Multiple-select editing. For example, select all your cabinets and change them all with one command.
Use callouts to reference between details, plans and cross-sections in a blueprint layout
Create blueprint layouts (up to Architectural C drawings 18" x 24") with 3D, CAD, Cross-Section/Elevation and Plan Views
Rotate and Flip Plan
Advanced dimensioning tools include angular, end-to-end and interior dimensions
Fully editable dimension lines and configurable dimension editing allow you to change where dimensions locate walls, windows, doors and other objects
Includes Free Online Tutorial Videos – with over 90 How-To Videos
System Requirements:
Windows® 8 / 7 / Vista / XP
2.4 GHz processor
2 GB of Memory (32 bit OS)
4 GB of Memory (64 bit OS)
256 MB of dedicated video memory, supporting OpenGL 2.1 or higher
High speed Internet for: registration, video access, content download
6 GB of disk space


Made and supported in the USA.