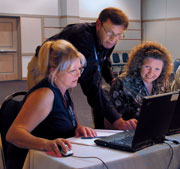 Our Home Designer webinars are a quick and easy way to learn more about our software. Through the chat option new, intermediate, or soon-to-be users can ask questions throughout the hour long class. All webinars are taught using Home Designer Pro.*
If you are unable to attend the live webinar, you can sign up and a link to the recording will be emailed to you.

It is currently 8:19 AM Pacific Time (UTC-7)
Requirements
A high speed Internet connection
A computer with speakers / headphones (audio is sent over Internet) or a telephone (long distance phone charges may apply).
* Not all Home Designer products have the same features as Home Designer Pro, but this seminar should provide a good understanding of how to use all Chief Architect products. Click here to view our full product comparison chart
Questions?
Please call Training Services at 800.482.4433 or 208.292.3400 or email if you have any questions, comments or suggestions.