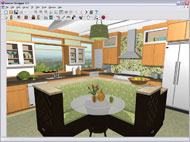 Kitchen & Bath Design
Why go to a big box store to design your new kitchen? Use Home Designer by Chief Architect software to first visualize your kitchen design ideas before you build or remodel and save time and money on your next project.
— Design Your New Kitchen or Bath Today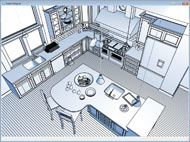 Cabinet Software Design Tools
Choose from over 1,000 cabinet combinations to create any kitchen or bath style. Find a variety of cabinet styles for base cabinets, wall cabinets, full height, angled and corner cabinets. Change the wood species, stains or solid colors to visualize your new kitchen in 3D.
— It's Fun & Easy!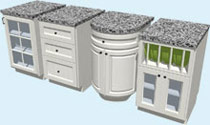 Cabinet Styles
Create a variety of cabinet combinations and customize the door and drawer styles. Define cabinet types as framed or frameless construction. Add cabinet details for moldings, door overlay, stiles, toe kick and hardware.

Remodel Your Countertops
Update your kitchen or bath with a new countertop. Choose granite, laminate, solid surfaces or tile. Define the backsplash material and height above or below the cabinets. Apply countertop edge profiles and countertop colors from the built-in catalog library. Your countertop choices are limitless.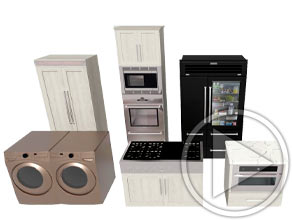 Appliances & Fixtures
The secret to a great kitchen is to combine good planning and design before you begin. Choose from a wide variety of basic to commercial grade and size to your existing appliance dimensions. Select name-brand appliances or import specific brands to create the kitchen of your dreams!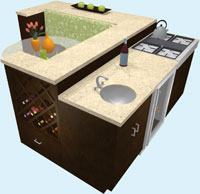 Kitchen Islands
Mix and match cabinet styles to create the perfect kitchen island. The software has several sample kitchen islands to choose from or use the Cabinet Designer tools and create your own custom kitchen island for an ideal kitchen layout.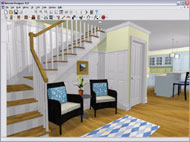 Colors & Materials for Flooring
Choose from many floor types like hardwood, stone, tile or carpeting or import your own. Apply the flooring with the Material Painter to visualize the effects for your rooms. Color Blending allows you to change colors and keep your texture — like staining with a translucent color.