UPC 750839034003
$79


Upgrade Options
View Product Demo
View Samples
Compare Products
What's New in 2014?
Interior Design Software
- Fun & Easy Interior Software
Give your dream home the look and feel you want with Home Designer Interiors. Choose from thousands of styles, colors, wall coverings, flooring and materials. Experiment with your interior design ideas using 3D models, virtual tours and advanced design tools. Choose from over 1,000 sample plans to inspire your ideas or create your own. Quickly place and arrange walls, windows, doors and cabinets. Find the perfect colors and materials for your design from brand-name manufacturers or import your own.
It's Fun & Easy! – Get started creating your Interior Design Project Today!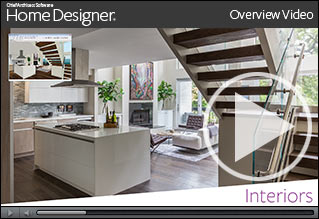 Interior Design
Give your home the exact look and feel you desire – visualize new styles, colors, wall coverings, flooring, and other materials.
Plan your space with 3D models, virtual tours, and advanced design tools. Itís fun to experiment with various options to create different looks
Choose from a variety of latest interior items – including cabinets, chairs, tables, sofas, fabrics, and accessories. Resize, change colors and materials to meet your exact needs
Choose Pre-arranged furniture groupings that are already assembled to help quickly layout rooms kitchens, bedrooms, offices, and kidís rooms
Material Painter® allows you to change the color and material of any object in your design – cabinets, countertops, walls, and flooring. Choose one of name-brand colors from Sherwin-Williams, Benjamin Moore or Behr and apply as a stain or solid color
Kitchen & Bath Design
Choose from a wide variety of appliances – easily change the colors to match your room's needs
Design your new kitchen or bath using the Cabinet Designer tools. Create thousands of cabinet styles and combinations.
Visualize new countertops – choose from laminate to solid surfaces or import your own custom material and color
Use the 3D camera tools to create an elevation view for added cabinet details in your kitchen or bath project
Room Decorating
Choose from a variety of furniture styles including chairs, tables, sofas and more – easily change the size, color and fabric to create your own style
Add accessories to create that perfect look and feel for your rooms
Update doors and windows for that perfect look – wood, casement, moldings, lites, shutters, window treatments and more
Import your digital photos and personalize your room with artwork and family pictures
Choose from thousands of colors and materials from name-brand manufacturers or create your own using the Color Chooser
Remodeling
Add a new addition onto your existing home – visualize what your new room will look like
Choose from several 3D design tools including Watercolor, Glass House, Doll House, Final View and more
Arrange walls, windows, doors and furniture then automatically generate 3D models from any angle
Select from several styles of lights from the library to create a custom design
Floor & Space Planning
Design in a 2D plan view with virtual graph paper to create accurately scaled floor plans
Use one of the built-in style templates – each one comes complete with colors, cabinets, flooring, doors and window styles
Automatically generate a complete spreadsheet of your project costs, broken down by category
Over 1,000 sample plans for design inspiration
Automatic and Manual Dimension tools. Place interior room dimensions to the interior wall finish or to the main structural layer.
As you define and name your rooms, you can display the room size and specify the moldings, ceiling height, wall coverings and more
Furniture, Fixtures and Accessories
Browse furniture and accessories libraries with sofas, chairs, tables, beds, desks, storage items, home office items and more
Choose from pre-arranged furniture groupings, including bedroom sets, dining and living areas and more
Resize furniture to create any custom size – change the height, width and depth of any item
Download additional library content from our website
Project Cost Estimating
Quickly determine costs with the built-in Materials List – do calculations for carpet, hardwood, countertops, windows, cabinets and more
Assign costs for materials: descriptions, quantities, unit costs and more
As you add items to your design, like windows, cabinets and furnishings, the program automatically places the item and the quantity in the Materials List so you can estimate your project
Never be surprised by the cost of your project! Interior Designer will help you plan your budget.
3D Models and Virtual Tours
Create and take a Virtual Tour of your home
Import your own digital photos
Design in both 2D and 3D
Visualize realistic lighting with interior shadows
Artistic rendering techniques for Watercolor, Glass House™ and Technical Illustration
Includes Free Online Tutorial Videos – with over 40 How-To Videos
System Requirements:
Windows® 8 / 7 / Vista / XP
2.4 GHz processor
2 GB of Memory (32 bit OS)
4 GB of Memory (64 bit OS)
256 MB of dedicated video memory, supporting OpenGL 2.1 or higher
High speed Internet for: registration, video access, content download
6 GB of disk space


Made and supported in the USA.