Make Your Interior Design Ideas Come To Life!
Give your dream home the look and feel you want. Choose from thousands of styles, colors, wall coverings, flooring and materials to make your interior design and decorating ideas come to life.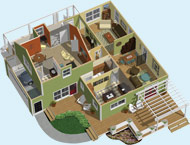 Floor Plans & Space Planning
Place and arrange walls, windows, doors, and interior accessories. Design your living room, kitchen or master bedroom and accessorize with furniture to create your ideal room layout with Interior Designer or Home Designer.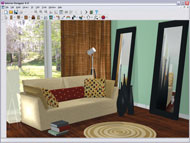 Visualize Rooms with Materials, Colors & Textures
Use the Material Painter and Color Chooser to quickly change wall colors, flooring styles and countertops to visualize your interior space in 3D. Choose name brands or create custom colors and materials from a digital photo.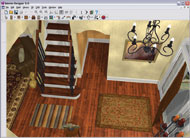 Interior Design Begins With a Plan
The best interior designs begin with thought out floor plans. Use the Home Designer tools to create floor plan variations to create your perfect house layout.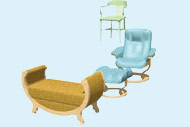 Interior & Decorating Accessories
It's easy to transform the look of any room with the latest furniture and accessories. There are thousands Library objects for interior design. Download bonus catalogs now for Home Designer.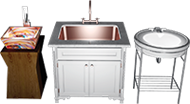 3D Visualization of Your Rooms
Create 3D models and virtual tours in minutes. Often the most challenging part of designing or remodeling is visualizing how your finished project will look. Choose from different camera angles to see your design from every view point.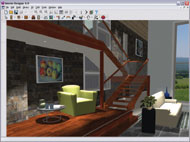 Electrical & Lighting Plans
Add lighting fixtures or change to a night view for realistic 3D renderings of your interior space. Windows and skylights add natural light that can help in your design process. Create an entire electrical plans and circuit diagram