The Ultimate Closet
A well-appointed closet may not take pounds off your body, but it will help shed the emotional weight that having a disorganized environment brings. Getting dressed in the morning is not the time to be creative. Rely on practical routines and an organized closet to streamline your relationship with your clothes and accessories. Follow the experts' advice from the editors at Better Homes and Gardens® magazines and watch your getting-dressed stress disappear, your purchasing decisions improve, and your overall outlook lighten. Plus, we'll give you a few tips on handling your children's rooms and even that messy mud room.
Efficiency Wish for the Bedroom
It should be your refuge, the place you yearn to be at the end of a long, hard day. Often, however, we treat our bedroom closet like a school locker, cramming too much into it and just closing the door when company comes. Clothes sit stacked on the dresser and shoes litter the closet floor. A little strategic thinking and some smart closet organization pieces will dramatically stretch your storage space, leaving you feeling calmer and more relaxed.
Design your walk-in closet as you would any other room in your house – for function and comfort. First take inventory of your practical needs. Where will you put a hamper, wastebasket, and full-length mirror? How will you store accessories? Do you want tilted shoe shelving for quick viewing? Tips: A pullout hamper can be handy to carry to the laundry room. To save space, think of a pullout mirror that slides out for viewing or mount one to a full door.
Hidden in Plain Sight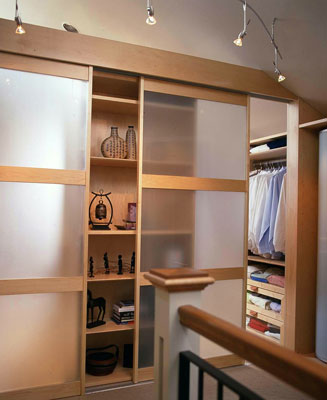 Strive to provide visual access to all parts of your closet. Many bedroom closets have heavy sliding doors, which cover half the contents. Consider using bifold doors instead; they open all the way. These frosted-glass doors (which mark the closet entrance) offer a glimpse of what's inside without compromising privacy, a storage trick that's often used in kitchens. Adequate lighting, such as this track-light system, helps you find items and match colors accurately.
Birds of a Feather
The first law of organization is to group like items. To begin, separate casual clothing from work and formal wear. From there, group garments by type, such as jackets and dresses. (Overachievers can earn bonus points by subdividing according to color or fiber content.) An "ultimate closet" uses compartments sized to fit the garments being stored and includes open shelves to hold smaller and seasonal items. Glide-out units and handy hooks can store belts and ties.
On the Beltway
Glide-out drawers make it easier to choose accessories by letting you retrieve and replace items with a "one-step motion." The goal is to minimize barriers so everything can be reached with ease.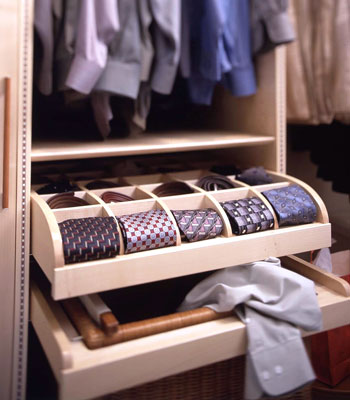 Tabletop Display
Never underestimate the value of a work surface in your dressing area. Use this space to stage tomorrow's outfit, sort socks, or pack a suitcase. The closet industry offers a multitude of custom and semicustom solutions. Or customize your closet yourself: Buy stock components from a home center, push together sets of shelves, or cover an old table with a pretty cloth.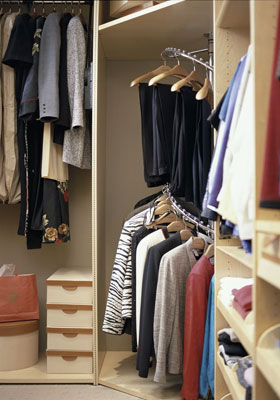 Spinning Wheel
Similar to a lazy Susan, a rotating stainless-steel clothing rack maximizes corner closet space. Horizontal rods take advantage of the overhead area. Expand your own closet's function by adding a second closet rod for hanging clothes or adjusting the height of an existing one to allow for storage above or below. Determine where to place the rod by measuring the drop of your longest garment.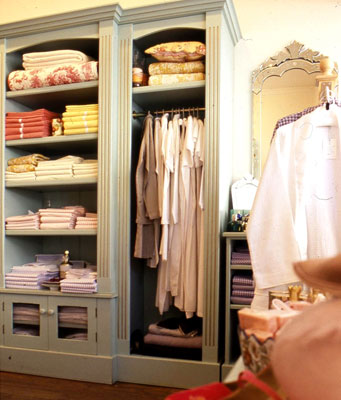 Custom Fit
Walk-in custom closets make efficient use of space, and there's a bonus: Everything can be seen easily, saving you time when dressing. You can build your own closet with components found at home centers and discount stores. Plan a walk-in closet with plenty of hanging space as well as adjustable shelves and hanging bars to move things around as needs change. Use the space under hanging shirts or blouses for stackable storage units or baskets of out-of-season clothes. Stacks of open shelves and drawers make the most of a closet.
Sitting Pretty and Freshly Pressed
Dressing tables have never gone out of fashion and for good reason: They're practical. The tabletop holds perfumes, makeup, and jewelry near the dressing area, and a slim drawer stows away other grooming supplies. If space is super tight, skirt the table with fabric that can be removed for laundering, and store extra items in a basket underneath.
Nobody likes wrinkles, especially people who love well-organized surroundings. This in-home, chemical-free dry-cleaning appliance removes odors and wrinkles, saving you both time and money. The cabinet is about the size of a small bookcase and will often fit into a master bedroom closet.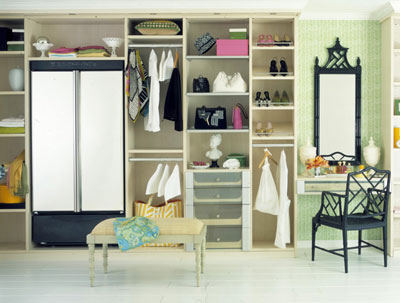 Open Shelves
What you see is what you wear the most. Therein lies the beauty of open shelving, as it provides a visual reminder of all your options. How well open shelving works, however, depends on how you stack your clothes and linens-and how meticulously you maintain the storage system. (Wadded-up sweaters do not need to be on display!) Nicely stacked items create a storefront-quality display. Repeat the effect in your home by grouping items by color. Making your closet look good will definitely make you feel good!
Accessories
If you've got the space, store your shoes in boxes, which offer protection from dust and makes it easy to rearrange the collection. Clear plastic might be preferable to cardboard because it allows you to see what's inside. But the ultimate solution is to snap a color photo of each pair of shoes and attach it to the outside of the container. (Try standing over your shoes and photographing down.)
Use shoe-store logic when organizing your collection of footwear. Pull pairs forward that will get the most attention this season. Organize the entire collection by style-casual, high heels, dressy flats, boots, slippers-and then by color. (After Labor Day, don't forget to move those white ones to the back!)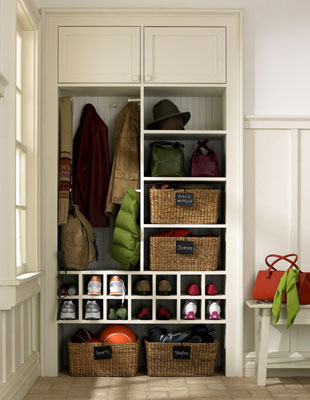 The Mudroom
A built-in closet system can contain everyone's come-and-go clutter and keeps it right near the door. A large cubby with pegs holds jackets, vests, and backpacks. Smaller openings along the right side are dropping grounds for hats and handbags. Small, messy items such as mittens and scarves are kept organized in large, rectangular baskets that slide completely into the unit and stay out of the way. Shoe cubbies help keep pairs together and carpets clean. Open space near the floor fits additional baskets for sports equipment. Cabinets up top contain less-frequently used items such as car cleaning supplies. A long bench is the perfect place on which to pack sports bags or sit down to lace up shoes.
Kids Closets
Organizing a kids' closet presents a big challenge. For the best storage design, attack the project from a child's view. Think small-small hands and small items-when customizing a storage system in a kid's closet.
To create a closet that is both organized and easy for a child to access, use stackable shelving units with plenty of catchall spaces. Lower open-storage shelves filled with toys act as a child-friendly toy box, and higher shelves give parents quick access to frequently used items. Cubbies gather everything from shoes and blankets to games and books. Use boxes to keep even smaller items looking orderly in open storage areas.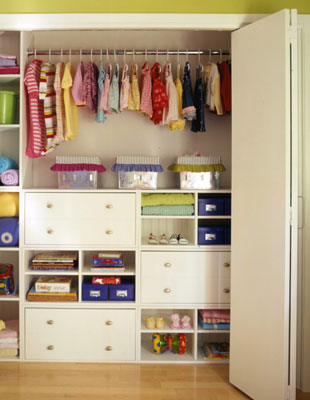 Clutter Control
Take inventory. Sort your child's clothing and purge the items that no longer fit or are outdated.
Talk to a closet professional or research ideas yourself. If you're stuck with a really small space, a closet designer can make the most of every inch.
Make it fun to stay organized. Install a basketball hoop above the clothing hamper.
Color-code shelves and boxes. Visuals remind kids where things go. You can even include a wall chart.
Allow your children to be part of the declutter process. Let them tell you how they'd like to store their favorite items.
One Day to a Better Closet
Make a plan. Analyze your storage requirements. Purchase or gather the components you need to handle hanging clothes, shoes, and other items.
Gather supplies. You will need garbage bags, laundry baskets, cleaning supplies, hangers, cedar blocks, and storage system components.
Empty your closet. Completely.
Sort. Make separate piles for items to mend, discard, donate, and keep. There's something to be said about the 80/20 Rule. We wear 20 percent of our clothes 80 percent of the time. Simply eliminating less important items can free up valuable space and simplify decisions. Of the keepers, group items by category.
Clean. Wash down the walls and shelves, and vacuum or sweep the floor.
Organize. Install the organizational systems you've created.
Go halfway. Restock your closet until it's half full. Evaluate whether your system is working and make adjustments as needed before finishing the project.
© 2007 Meredith Corporation