Practical Stairways and Pathways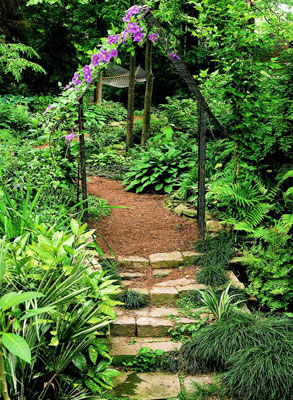 Stairs and paths solve problems. They provide a way to travel from one place to another, unify design elements of the landscape, and reduce landscape maintenance. Let the outdoor experts at Better Homes and Gardens® offer you some tips to creating stairways and pathways that will blend in to your outdoor landscaping.
A path should have a purpose. To determine that purpose, start by asking yourself these questions: How will it be used; Who will use it? The answers will help you determine the path or stair's route through the yard and what kind of surface it should have.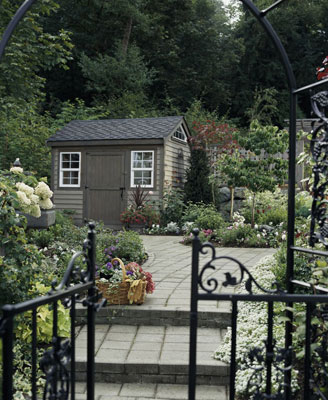 Function First
A footpath worn into the grass is a sure sign that you probably need to put in a path, sidewalk, or stairs if on a slanted yard. Many landscapes will benefit from one or two utilitarian pathways – those that simply get you from one place in the yard to another. A walkway from the house to the garden shed is a typical example. For any outdoor path or stairs, it should be wide, feel comfortable and secure underfoot, and allow you to proceed quickly from one point to another.
Unless you plan to include new elements in to the design, working paths and stairs are best laid in straight lines... and the easiest for that do-it-yourself homeowner to complete with success. Other paths that wander through gardens and flower beds will take more work to accomplish, but are well worth the time, money, and effort. Plus, the overall look of the landscaping will be enhanced.
How wide should your stairs or pathways be? Two people can easily pass each other on a 3-foot wide path. They can walk together comfortable on a 4-foot wide surface. Also think of the material that you will use. Do you want something smooth like wood or concrete slabs? Or will stones or bricks be okay to use? Plan to use materials that will blend best with the surroundings, including the style of the home.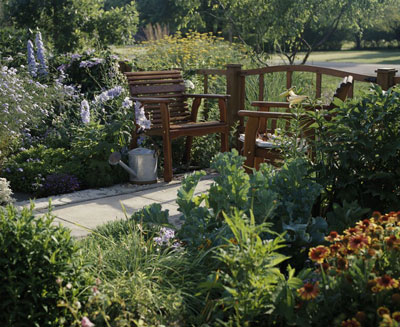 Paths need both a place to start and a place to end. When these features don't exist naturally in the landscape, create them. An arbor, a gate, or even a sitting area can mark the starting or ending point. Maybe the ending point is the garden shed or swimming pool area. Think about these endpoints while are you designing the new space. Also, think of how potted plants can play in the landscape mix by stairways and pathways.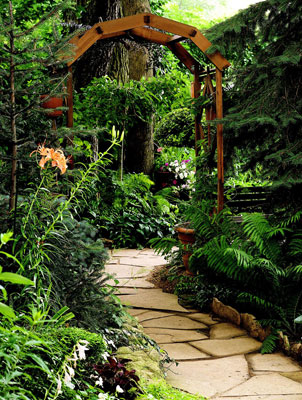 Creating Harmony
A successful landscape design will combine all the elements into a unified whole. Achieving that harmony requires an artful blending of the shape of the structures and its materials. Shape and materials impact form, mass, and texture and define the relationship of an outdoor space with the house and the landscape. To achieve a sense of unity, repeat or blend contours of outdoor structures, stairs, and pathways with dominant forms – the rectangles of the house; curves, angles, and shape of the swimming pool; gardens beds or the slope of the yard.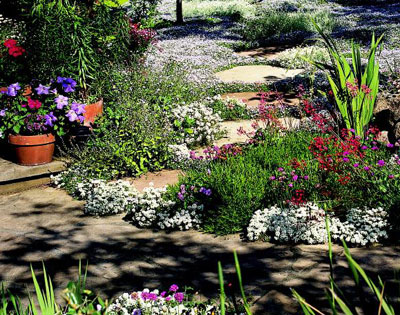 No matter what you choose to do, it will enhance your landscaping and improve the function of your yard. Just remember to create the design and have a plan before you start digging!
© 2008 Meredith Corporation