Planning Your Deck Project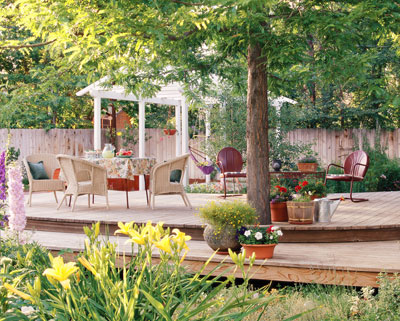 A deck should be an expression of the way you live, whether it's for winding up or winding down. It can be a quiet place for morning coffee or the last few chapters in your favorite book, an outdoor family room for catching up on conversation, a dining spot for two (or twenty), or the hot spot for weekend neighborhood nightlife. Let the experts at Better Homes and Gardens® offer you some helpful tips and advice on planning your next great deck!
A properly planned deck will be tough enough to stand up to the rigors of children's play and assaults by the outdoor elements and versatile enough for gatherings of almost any size. You can have all that enjoyable outdoor space and you can create it yourself. Planning and designing a deck starts with the same question as planning spaces inside your home: What will you do in your outdoor room? If your needs are simple and the backyard small, you can get by with a modest deck – one that's 10x12 feet may do. Lavish entertainment demands more room and perhaps an outdoor kitchen. "Form follows function" may seem a slightly worn-out phrase, but it's still useful in deck design. Think about function first. The fun will follow.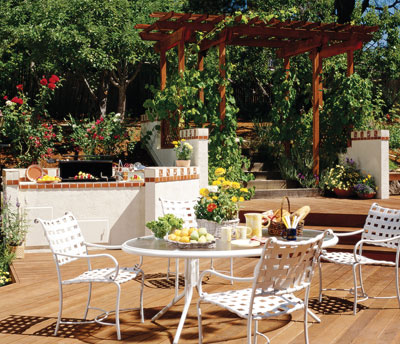 Complement and Contrast
Integrating all the elements into a harmonious deck will create a place where you'll want to spend time. This deck has both a large platform for festive parties and a smaller space for family dining. The outdoor kitchen doesn't interfere with natural traffic patterns, but is still convenient to both areas. Its color and texture add style. Stuccoed block and light, airy furnishings create an eye-catching accent against the rich backdrop of redwood and foliage.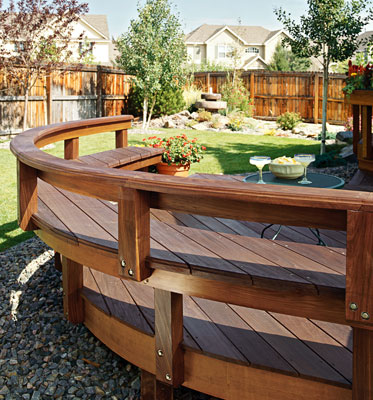 Put in some Personality
Railings are a great way to customize your deck. This railing incorporates generous seating and an extra thick top railing which is handy for setting your drink.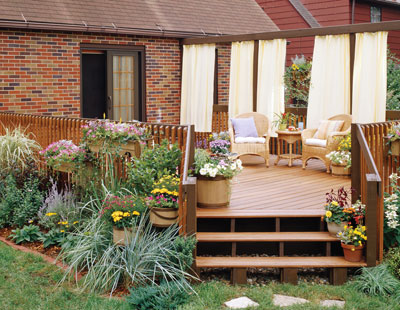 Build for Beauty
A small deck doesn't have to look like a pallet's first cousin stuck on the back of a house. That's the kind of deck that often sits unused. Containers with plants add color and texture and ease the transition from the deck to the rest of the landscape. Flowers and foliage make any deck a stand-out. Outdoor curtains hung on a beam track provide moveable shade – a clever solution for a space too small for an umbrella.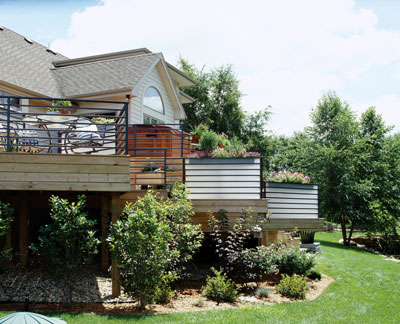 Choosing a Site
Before starting you might assume that siting the deck is easy; that impression might change after some on-site research. Your first site choice may meet some requirements but not others.
A deck should not exist in isolation. It should relate to the architectural style of your home as well as to other aspects of your site that aren't necessarily visible. The ideal location for your deck will provide easy access from indoors and out, make the best use of natural views, and give you enough privacy that you don't feel you're on display. The proper site should also take advantage of sun and shade patterns, prevailing breezes, and other natural conditions to provide maximum comfort and usability.
Take a look at these conditions before you commit to your initial plans. Inventory your site and list its assets and liabilities. You may have to evaluate a number of options, but if you make those decisions now, you'll probably avoid building a deck that you won't use much.
Visual and Physical Access
You have to see your deck for it to invite you outside. But if your proposed site doesn't beckon you outside, don't move the deck just yet. Include new windows or doors in your plans. You don't need to see the whole deck from inside the house. Just a glimpse is often more effective than a view of the complete deck.
Make the view attractive with accents you can see from the inside-geometric decking patterns, a decorative railing insert, or container gardens are attractive visual enticements. And if you can see these attractions from more than one room, so much the better. If you can't, just design your deck space so the largest view is from the room that adjoins it.
Looking out at your deck isn't the only thing that matters, of course. You have to be able to get to it easily. To make sure the pathway to the deck is open and free of obstructions, make a sketch of the routes people use when walking through your home. If the location you choose creates traffic jams, make alterations. For example, although a deck next to your kitchen might seem ideal for outdoor dining, it may make the traffic in your cooking space unbearable. Moving a door to a side wall can redirect the traffic away from the work areas.
Compatibility
The success of your deck may depend on what goes on in its nearest indoor room because you will tend to use your deck more if its use is similar to that of the interior room next to it. For example, a small deck for coffee or morning conversation would feel just right outside your bedroom. But that would be the wrong place for a large party deck.
For outdoor dining, put the deck close to the kitchen. Plan party areas close to the family room or other public rooms of the house. For private space, limit access-and shield your space behind hedges or fencing.
Inventory Your Site
Before you finalize your plans, inventory your property to see how the terrain and climate might affect the location of your deck.
Terrain is the characteristic which will probably most affect your deck site. Deck construction is relatively simple on flat land. A slope might require grading, a retaining wall, or an elevated deck. Also, a deck can make a hillside an opportunity instead of an obstacle. High slopes can offer magnificent views. Land that slopes up from a deck site can provide natural privacy and shelter from the wind.
Terrain can affect temperature, too. A deck on a hill will feel warmer than one at the end of an incline because cooler air flows downhill. And if you trap that cool air with a retaining wall or a fence, your deck might feel cold after sunset.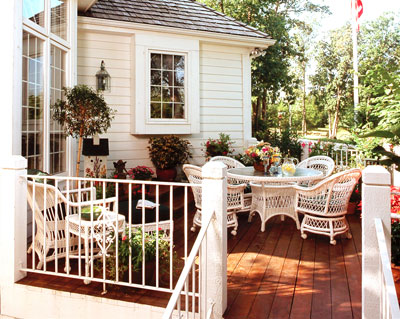 Sizing it Up
If your deck will have several uses (a play area for the kids, space for dining, an area for sunning) you may be tempted to make it as big as possible. But multiple functions don't always call for more deck. Sometimes a small design element, such as a level change, can better isolate functional zones. However, if you plan to have a one-level deck, use the high end of your size estimate-such as 12'x12' for a dining area for up to six people and 7'x7' for two lounge chairs. Adding more space now is less expensive than adding it later, and the last thing you want is a cramped deck. If your budget is tight, plan a deck that you can build in stages, adding elements as you can afford them, but keeping the overall design intact.
To test the size of your deck site, rope off the area (or outline it with a hose). Then bring in the furniture, including the barbecue grill, lounge chairs, tables, and recliners. Adjust the size until you're sure the deck will have room for all of your planned activities. Then step back and consider its scale.
A deck should be proportionate to the house and grounds. If your deck is small, you probably won't have much of a scale problem. It's a large deck that often looks too big next to a modest home. Start with a design that fits the uses you envision, then scale back to fit the limits of your budget and terrain.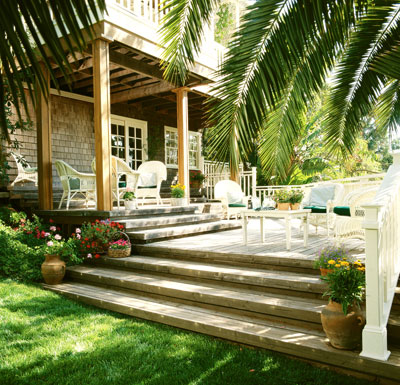 Multiple Mandates
French doors from the family room open onto this deck with multiple levels sized for different uses. Next to the house, the first tier offers a quiet vantage point for taking in the open landscape, protected by the rear wall. The second and third platforms provide extra room for larger gatherings.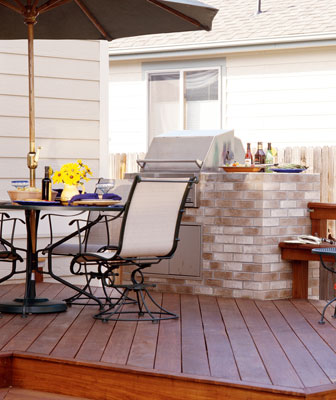 Designing for Dining
And last, you don't have to spend a fortune to enjoy the taste of outdoor cooking and dining. Even a basic charcoal grill and a small serving area at the edge of the deck will get you started. More elaborate (and more costly) designs can include rotisseries and refrigerators, as well as storage for utensils and a handy prep sink.
© 2008 Meredith Corporation