Kitchen Cabinets 101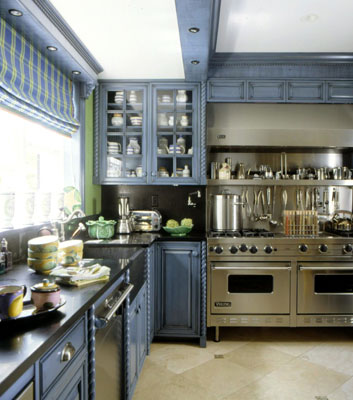 Choose cabinets and hardware wisely so that your new kitchen will look great and perform beautifully! Let the kitchen experts from Better Homes and Gardens® magazines help you create a kitchen that fits your family's lifestyle and budget.
Learn about the newest features and options in cabinetry and hardware before you start designing your new kitchen. Selecting the right mix of products for your kitchen – and your budget – can help make your kitchen dreams a reality. Here are some helpful tips and information to get this project started!
Probably more than any other element, cabinetry sets the look and feel of your kitchen. The right cabinet choices will help make the room efficient and easy to use. According to the National Kitchen and Bath Association, nearly half of the average kitchen remodeling budget goes toward cabinets. If you choose custom-made cabinets, solid maple or oak, or exotic veneers, don't be surprised if those beauties consume an even bigger piece of the remodeling pie. Accessories, modifications, and unusual finishes increase the costs further.
Depending on how they're constructed and how much they can be customized, cabinets fall into three basic categories: stock, semicustom, and custom. The category of a particular cabinet is not necessarily an indication of quality; fine cabinetry can be had in all three. The following is a rundown of the types of cabinets and the most common materials from which they're made.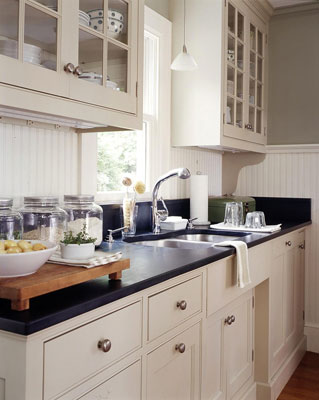 STOCK CABINETS
Stock cabinets come in a great number of styles. Widths for stock cabinets run between 9 and 48 inches, increasing in 3-inch increments. Order through retailers, at home improvement and kitchen and bath centers, or from manufacturers' catalogs. Stock cabinets cost between $60 and $200 per linear foot.
Pros: Stock cabinets are usually the most economical choice. Because they are stored in manufacturers' warehouses, they are also readily available – usually stock cabinets will arrive within a week or so of being ordered.
Cons: Because the cabinets are already built – sitting in a warehouse waiting to be purchased – they don't come in special sizes. Filler strips can close gaps between a cabinet and an appliance or a wall, but that's pretty much the extent to which the cabinets can be customized. If only the "real thing" – solid wood – will do for you, it's unlikely you'll find what you're looking for in stock cabinets.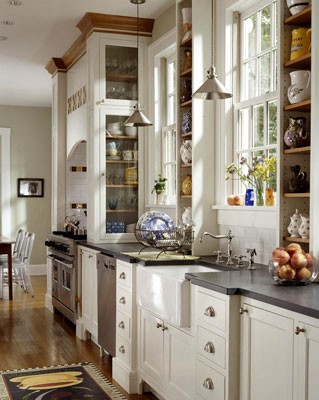 SEMICUSTOM CABINETS
These cabinets are built only after an order is final. They come in a wider range of styles, construction materials, and colors than stock cabinets. They can be amended easily with storage units and accessories, such as pullout bins and lazy Susans. Semicustom cabinets usually run between $100 and $650 per linear foot.
Pros: Because they are constructed after you've placed your order, modifications to standard cabinet sizes can be made. Semicustom cabinets offer a broad selection of finishes and varying cabinet depths that will give your kitchen a more personal look.
Cons: The primary disadvantage of semicustom cabinets is their higher price tag. They also may take a month or longer to be delivered after they're ordered, but when you're talking about a kitchen that should last up to 15 years, the wait shouldn't be a major issue.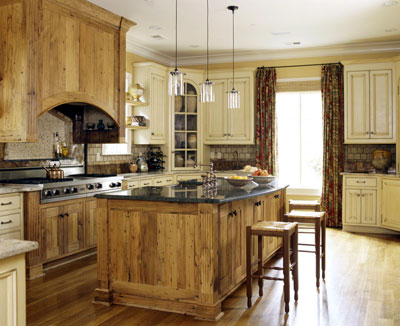 CUSTOM CABINETS
These units are built, usually by a local cabinetmaker, from the material you choose (usually a hardwood, such as maple, cherry, walnut, or oak); in the size, shape, and configuration you choose; and with whatever finish you want. Custom cabinets usually cost $500 to $1,200 per linear foot.
Pros: The advantages are obvious: Within the limits of sound construction, your kitchen cabinets can look and function exactly the way you want. If you have an oddly shaped kitchen, a curved wall, or some other uniquely interesting aspect to your kitchen, it can be perfectly fitted with custom cabinets. You can also accommodate specialized storage needs. A long cabinet without interior partitions to hold cookie trays and roasting pans, for instance, can be created. If you use an experienced and artful cabinetmaker with a good reputation, the quality of your cabinets will be unsurpassed. Ask to see examples of past work and be sure to check references.
Cons: Far and away, the biggest downside of custom cabinets is their expense. And you can't be in a hurry to get cooking. True custom-made cabinets take at least 10 weeks – and often longer than that – to complete.
Designer Tip
High-end cabinetry is worthy of its price tag not only for its appearance but also for its long-lasting quality and precision in every aspect, from construction to hardware. Two examples: Finished cabinet sides prevent moisture from compromising the integrity of the cabinet box; Beveled-glass doors are a higher-end addition to cabinets and can visually help break up a long walls of solid cabinet doors.
To get the best cabinets for your budget, keep your work area compact and stick with standard sizes. Your budget will be happy... just make sure your design can adjust to work with standard sizes.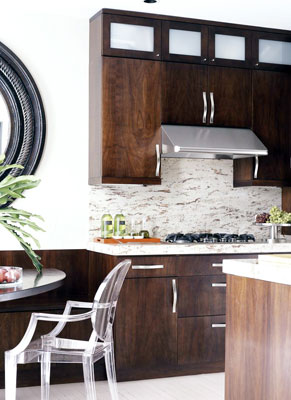 Materials
Wood – Unless you're hiring a custom cabinetmaker, you may have a hard time finding solid-wood cabinets. That's OK; many high-quality units are made of plywood or particleboard. Drawer construction is an indication of quality. Look for metal glides with ball bearing rollers and dovetail assembly or screws and dowels. Be sure the wood grain on doors matches the frame. To shave costs, order paint-grade units and do your own painting.
Laminate – Laminate cabinets are durable and easy to clean, and they come in an array of colors. High-pressure laminates perform best but are expensive. For strength, laminate should be applied to the backs of doors as well as the fronts.
Make Good Choices
No single item affects the look, cost, and longevity of your kitchen as much as cabinetry. Buying the cheapest available is rarely the best choice. Drawers soon wobble on their substandard guide hardware or fall apart altogether, and inferior finishes wear away. Unless the cabinet surfaces are solid wood or wood veneer, painting or refinishing will be difficult or even impossible. When comparing cabinets, ask about construction details and look for these signs of lasting quality: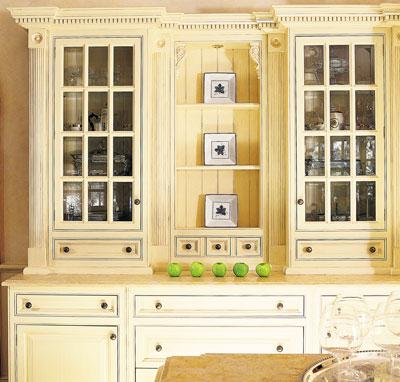 Solid-wood face frames with doweled-and-glued joints, unless the cabinet is frameless. Mortise-and-tenon joinery is even better, but it's a custom-only feature.
Solid-wood drawer fronts and door frames; solid or swell-veneered door panels.
Solid-wood or plywood drawer sides at least 1/2-inch thick, with doweled or dovetailed joints (avoid stapled-and-glued joints).
Self-closing drawer and tray glides able to bear at least 75-100 pounds each. Ball bearings are best. Full-extension glides increase storage space.
Corner braces, plywood sides, and rear panels in the cabinet box.
Adjustable shelves in wall cabinets.
Pullout trays instead of fixed shelves in lower cabinets.
Drawers and doors that open without any trace of wobbling or binding.
Hardware
If cabinets are furniture you happen to hang on your walls, hardware is jewelry for your well-dressed kitchen. Of course, hardware also has a very important function, and that should be your first consideration when purchasing it. Will that small, sleek, round brass knob work flawlessly on a floor-to-ceiling roll-out pantry loaded with canned goods? Probably not. But a sturdier handle would. For instance, one innovative homeowner fitted the drawers holding his heavy cookware with the kind of bowed handles found on hospital doors.
After determining which hardware will function well in your kitchen, you can move on to form. Certain types of knobs, hinges, and drawer pulls are associated with certain architectural styles or historical periods, but you don't have to be locked into those if you fancy something entirely different. Hardware is one way to personalize and decorate your kitchen.
Pricier models are usually the most sophisticated, including decorator-style pulls and hinges made of solid brass or nickel. Despite its name, hardware also comes in porcelain, ceramic, glass, plastic, and wood. In the last few years, the biggest change on the hardware front has been the increased use of iron and weathered bronze. The problem, of course, is cost. Purchasing five or six knobs for a bathroom at $25 a piece would be one thing, but the average kitchen requires between 30 and 60 pieces of hardware.
For a sleek, clean look, your cabinets can be fitted with invisible hardware. Doors can simply be opened on the hinges or can be fitted with spring-loaded hinges that pop the door open with a gentle push on the corner.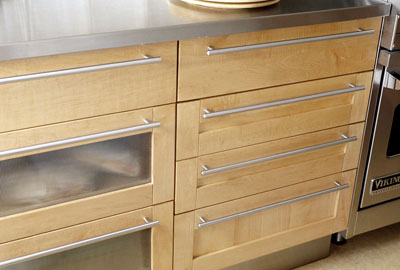 Long, stainless-steel handles add architectural interest to European-style cabinet drawers and doors. Reeded-glass inserts in selected base-cabinet drawers break up what would have been a long expanse of wood.
If your cabinetry is sleek and contemporary, the hardware should concur. Go for a minimalist look that reflects your personal style.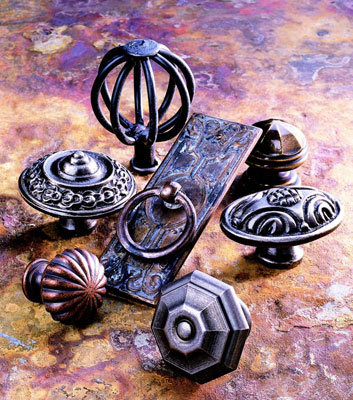 If you dream of earthy Tuscan villas and charming French farmhouses, select hardware with a rustic, weathered patina.
© 2008 Meredith Corporation