Bringing Health and Fitness Indoors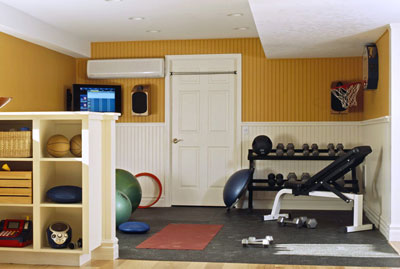 If you've ever allowed a treadmill to languish in an out-of-the-way corner of the house, consider creating a space in your home designed especially for exercise and wellness. The following ideas, offered by the experts at Better Homes and Garden®, will help you get a plan started for a fitness space that will meet your needs.
People are more likely to regularly use a well-designed fitness room outfitted with quality equipment. Plan a large portion of your budget for equipment or budget for adding additional equipment quarterly to build up your equipment inventory. Converting space into an exercise room is relatively easy because little, if any, plumbing or extra electrical work is required.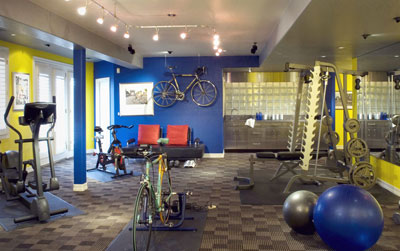 Workout Style
Create a workout environment suited to your style, whether it's quiet and meditative or energizing with sights and sounds. If you're adding 2x4 walls, remember to run the wires and cable for stereo and television before covering the studs with drywall. Fixing a television to a swiveling, ceiling-mount bracket or creating a build-in niche in the wall allows you to view the television from anywhere in the room. Include a VCR or DVD player to view exercise videos.
Install tough, durable flooring-vinyl, rubber, or cork tiles are appropriate choices. If you prefer carpet, select a tightly woven style that cushions your step without cramping your routine. Create the illusion of a larger space with a floor-to-ceiling mirror. If your budget allows, fill a whole wall with mirror. Floor-to-ceiling mirrors also allow weightlifters to watch their form, control their posture, and avoid injury.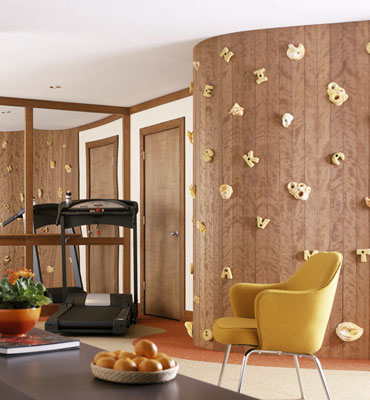 Don't Forget the Kids
Children need exercise, too. To involve the children in exercising at home, add a creative climbing wall to the space! Your kids can be challenged to climb up and/or across the wall. Add cushioned mats below the wall just in case there is a slip up!
Safety First
For homes with small children, think of fitness room safety. Electric fitness equipment such as treadmills should have safety keys or switches to prevent children from turning them on without adult supervision. And don't forget to stow away the workout gear and weights after you finish. If you choose, add a door lock to keep children away from possible harm.
You may wish to leave open floor space for doing yoga or stretching after a workout. Plan an eight-foot space for these activities. Provide a minimum of 30 inches between pieces of exercise equipment for walking space. 36- to 40-inch aisles will make walking between equipment much easier and safer.
Indoor Water Spots
Many people prefer to soak in a spa in secluded settings surrounded by natural beauty and isolated from the hubbub of everyday life. Some homeowners don't have the luxury of extra outdoor space or don't wish to deal with the chilly northern winds during winter months. So, if an indoor location is the only choice (or desired choice), set aside a separate enclosure for this purpose. Unlike a whirlpool tub, which is filled with steamy water only when in use, a spa remains filled and at least partially heated at all times. The space it occupies must be able to adequately vent the resulting high humidity. Excess humidity causes condensation on walls, floors, and windows. Which in turn can cause rust, dry rot, and mold (thought to be responsible for some serious lung conditions linked to indoor spas). Control methods include: extra insulation; double- or triple-pane glazing in windows and doors; a vapor barrier under interior and exterior walls, the floor, and the ceiling; a floor drain to dispose of splashed water; and a ventilation system with strategically placed vents, duct fans, operable windows, and at least one operable skylight or roof window. Choose moisture-resistant finishes such as ceramic or terra-cotta tile or rot-resistant wood, and decorate the room with moisture-loving plants.
Install an indoor spa near a shower and changing area, and away from noisy areas of the house. If the spa will be a place for the family or for entertaining friends, avoid locating it where others must pass through a bedroom to get to it.
Whether in existing or added on space, indoor spas usually require extra floor support. Most homes are designed to hold about 40 pounds per square foot; an average-size spa, filled with water and several people, however, weighs about 243 pounds per square foot. It is recommended the spa be supported separately from underneath, on its own foundation.
In today's society, fitness and overall wellness continues on the increase as an important part of daily living. Adding a exercise room and/or a small spa area can lead to increased physical and mental health.
Copyright 2008 Meredith Corporation