Garden Decor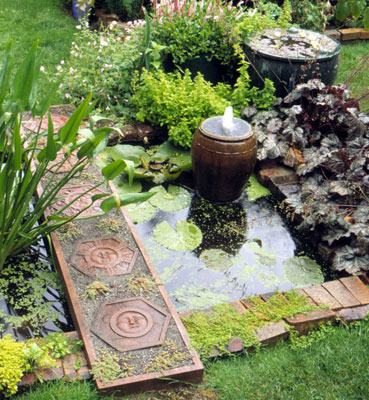 A beautifully planted garden draws interest and inspires wonder. But a beautifully decorated garden includes other elements that blend with the plants to make a setting that's attractive and complete. The place exudes a sense of design, as well as comfort and personality. Below are some tips of the trade and ideas to create your own little spot of garden heaven from the editors of Better Homes and Gardens® magazine.
A well-decorated garden makes your outdoor spaces more useful and rewarding. By planning carefully and including certain elements, you can minimize maintenance chores and maximize privacy. Even the smallest spaces benefit from embellishments, from a sparkling fountain or birdbath to a musical wind chime or comfy chair. Take a look and really study your garden areas. You'll be amazed at the variety of options you can come up with to spruce up your garden.
Got Style?
First, contemplate your garden's style. Remember to think about a style that creates cohesiveness between house and garden. Plus it provides you an outlet for personal expression. Explore different styles to see which ones mesh with your style. At this point, look at the big picture and start to consider which decorating materials seem most appropriate for your garden and region of the country.
Good Garden Bones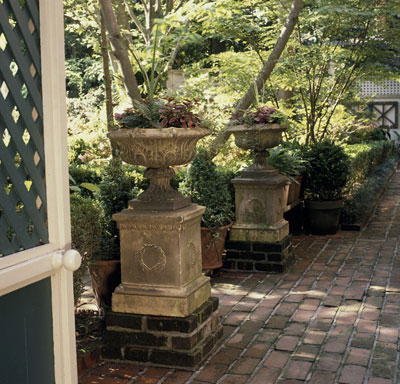 Whether you're breaking ground on a new garden or you're an old hand with a hoe, your garden can benefit from structural embellishments.
To establish the framework of a garden, start with floor and wall treatments. Choose surfaces for underfoot, such as grassy paths, gravel, or stepping stones. If you already have a deck or patio, consider dressing it up with a painted area rug. Spiff up walls with trellises, either cloaked with vines or left bare to show their structural form. Think about the entrances to your garden and outdoor living areas. Would an arbor or a gate help direct traffic and make the area more welcoming or private? Adding an arbor gives you an opportunity to grow the climbing fragrant roses you've always wanted.
Decor Resources
Highlight the natural attributes of your garden as you devise your decorating plans. In wide open spaces, wind art comes to life as breezes drift through. Mask neighborhood noise with a trickling fountain or with a tinkling wind chime. Transform a shady nook into a luxuriously cozy corner by adding cushioned chairs and candles. Do all this and more on a limited budget by working with things you already have.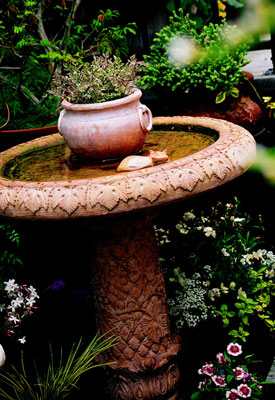 Garden Artistry
To decorate your garden, combine beauty and practicality. When adding decor to your garden, ask yourself two questions. First, ask: "Is it me?" Select statuaries and accessories that reflect your personal style and tastes. Add elements that you adore, not just those that you think will look good or happen to be on sale. A ho-hum garden overflows with unrelated items. An inviting garden emanates personality when it features a theme that's taken years to create, a one-of-a-kind sculpture acquired on a memorable trip, or a favorite color that's repeated throughout.
Second, ask: "Do the decorative elements serve other purposes?" Dressing up the functional aspects of a garden, from paths and edges to plant supports and containers, boosts a garden's effectiveness visually, as well as practically.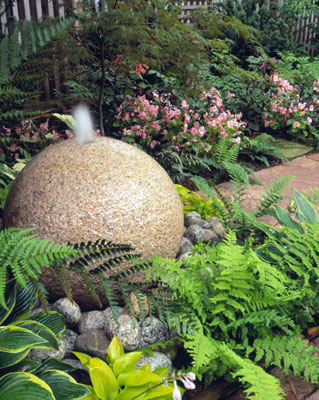 Plan for Change
Aim for artful simplicity. The larger the piece, whether art or furnishing, the more impact you'll achieve. Adding lots of small pieces may result in clutter.
Remember that outdoor decor fades, weathers, and deteriorates over time. Change is inevitable in the garden, in the accessories as well as in the plantings. Honor that natural process by incorporating art that's versatile, changeable, and movable. But first make sure your furnishings are the most well-made and long-lasting ones that your budget allows.
Perhaps it's time to update your garden by trading the railroad ties that frame planting areas with interlocking stone; or swap that old Jacuzzi for a low-maintenance fountain.
Do Yourself Proud
Trade your trowel for a hammer or paintbrush and see what kind of garden decor comes to life beneath your hands. Making some of the items to decorate your garden will enhance your sense of pride and satisfaction.
Concrete Ideas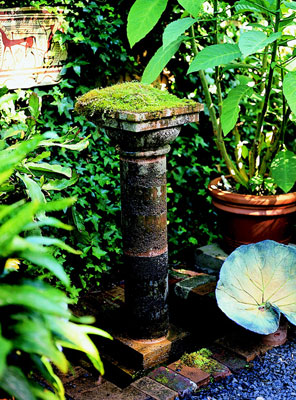 Take advantage of concrete's versatility by using it to anchor your garden's artful ambience. Hand cast concrete art is generally weatherproof and can withstand all types of weather. Other architectural elements made of outdoor-grade wood, such as ornate containers, trellises, pergolas, and statuary, will add character to a garden. Over time, they develop a rich patina that makes them look as if they have been rooted in the earth for generations.
If that fresh-from-the-store look isn't your style, transform gleaming new treasures for your garden into weathered beauties with these easy tricks:
For concrete pots, wipe off the new and rub on the old by coating surfaces with black wax (ordinarily used on antiques).
A mossy veneer is the understatement of established, ageless beauty. To seed moss onto concrete, terra-cotta, or brick, swirl a small handful of moss in a blender with buttermilk. Brush the buttermilk on surfaces to be mossed; then keep them shaded and moist. Moss will grow in seven to 10 days. On brick walkways, water regularly to keep moss healthy.
If you're adding a wooden structure, wipe freshly painted, still wet surfaces with a damp rag to create an instant weathered finish. Experiment to create the look you want.
In outdoor seating areas, cover pillows with vintage fabrics that match your garden's well-seasoned ambience.
Design Basics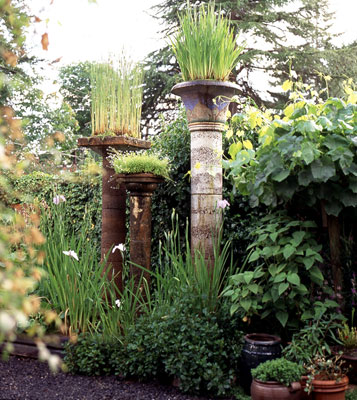 A garden that revolves around classic design unfolds with the precision of a symphony. Whether in one area or between rooms, focal points draw the eye through the garden, from strategically placed structures to statuary or containers.
For some gardeners, space unclaimed by hoe and trowel beckons like a blank canvas. An empty yard offers a clean start, begging for a composition of color and texture in eye-catching art. Brightly tinted furniture, containers, sculptural accents, and other captivating items splash bold colors throughout an artistic garden.
Let nature create pieces for your garden gallery. Let a tree stump provide sculptural beauty or have a boulder suggest monumental style. Whatever your artistic bent or preferred taste, use it to transform your garden into a work of art.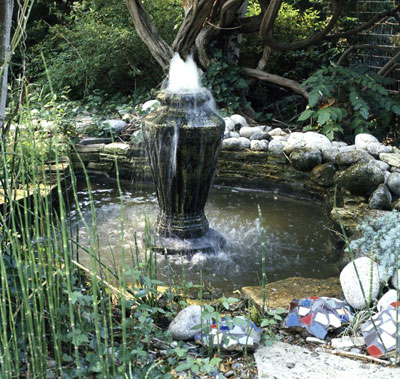 When planning an artistic retreat, focus on color beyond blooms. Splash sunny paints on benches and sheds. Use unusual metallic finishes on furniture and pedestals. Avoid getting carried away with an overabundance of art. One purposefully placed sculpture, whether fanciful or intense, transforms a corner of the garden into a lovely nook that commands attention. Set out an oversized pot to enthrall the eye with its voluptuous curves, for example. When placing your garden art, position seating nearby so you and others can enjoy the view.
The possibilities are endless! Get creative and begin your outdoor decorating adventure today.
© 2009 Meredith Corporation