Fireplace Finesse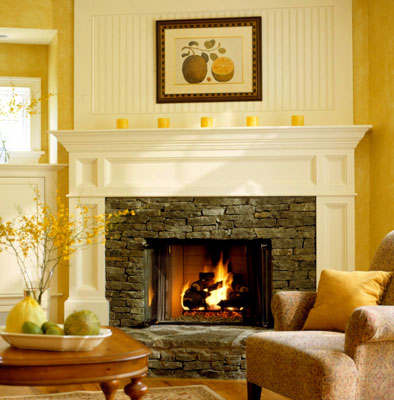 Are you looking for innovative ways to incorporate a fireplace into a home you currently own or one you are planning to buy or build? Does your existing fireplace simply need a fresh new face? Or does a complete overhaul come to mind? You've no doubt answered yes to one of these questions. Let the building experts from Better Homes and Garden® magazines give you some style tips and ideas to review before you create the fireplace of your dreams!
Reflections of Style
From the elaborately carved hearths adorning the interiors of sprawling French Chateaux to the mortar-and-stone surrounds found in woodland cabins, dancing flames are a captivating central feature of homes throughout the world. The following information features fireplace decorating styles including traditional, Old World, romantic, American country, cottage, Arts and Crafts, and contemporary. As you consider the right fireplace style for your home, trust your instincts. Surround your fireplace with colors that cheer you, fabrics that comfort you, and treasures that capture your past and your future.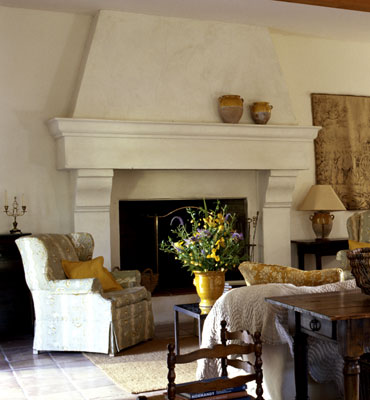 Old World
In the stately homes of 17th-century Europe, grand stone hearths provided welcome warmth and an enticing gathering spot for families. Carved stone surrounds warmed European castles as far back as the Middle Ages. To re-create this Old-World fireside look in your own home, think big! In this time-proven style, hearths, mantels, and surrounds are all weighty in appearance and large compared with other fireplace styles.
Check with architectural salvage firms for antique stone or marble fireplace surrounds, or look into cast-stone versions that mimic these more expensive materials. Floors of natural or simulated stone, slate, or large-scale tiles complement this vintage fireplace style well, as does salvaged wood flooring. Give walls more visual weight by topping them with elaborate moldings and glazing them to replicate vintage plaster.
When choosing fireplace screens and tools, opt for a hefty look in wrought iron, pewter, or antique brass. For furnishings, select generously-sized upholstered pieces and sturdy tables that are proportional to the scale of the fireplace. These substantial pieces keep the weight of the room visually balanced.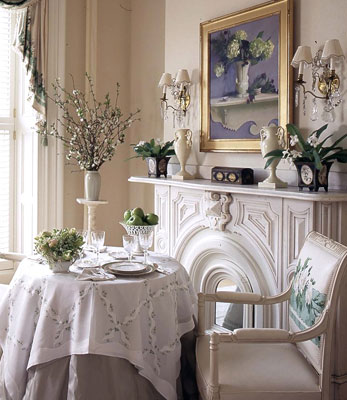 Romantic
Free-flowing interpretations of romantic style combine motifs from ancient Rome, Greece, France, and Egypt to achieve a sumptuous and glamorous look of gilded finishes and ornate detailing. To bring this classic look to your home, choose a formal fireplace that combines refined materials such as marble and hand-carved wood or stone with graceful proportions.
Center an ornate mirror or an oil painting over the fireplace and dress the mantel with a symmetrical arrangement of classic objects, such as vases and candlesticks. Surround your focal-point fireplace with sofas, chairs, and chaise lounges with scrolled arms and backs. Favored fabrics include lustrous silks, sumptuous damasks, and tactile velvets and chenilles. Warm whites and buttery finishes are staples, but rich golds and deep wine colors are often added to warm the room.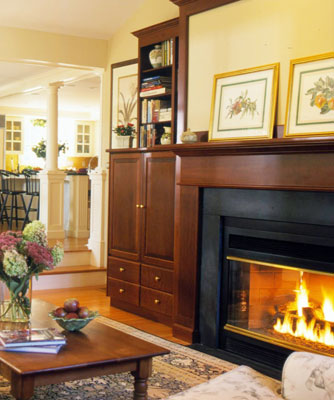 Traditional
Meticulously designed, traditional style fireplaces never go out of style. Symmetrical arrangements of cabinetry and fixtures create a feeling of balance and order around the fireplace. A pleasing combination of gentle curves and rectilinear shapes are also part of the look often created by combining rounded columns with geometric cabinetry panels. Fireplace woodwork colors frequently are in the mid-range of tones, though very dark and very light hues can also be used to accent. Use natural surfaces that complement a traditional hearth such as marble, granite, or limestone surrounds.
Architectural details include deep crown moldings, customary chair rails, finely crafted woodwork, and lustrous stained and painted surfaces. Fabrics typically are made from high-quality natural materials, such as fine silks, heavy linens, and rich wools in classic patterns that include florals, botanicals, checks, plaids, tone-on-tone stripes, and solids. Decorate with vintage accessories including such items as shiny metal hardware, sconces, urns, framed prints, hand-painted ceramics, and cut glass bottles and vases.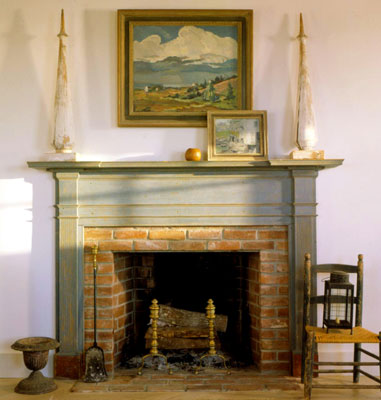 Country
Snug and simply furnished, the ranches and farmhouses that sheltered generations of rural Americans have left a legacy of comfortable style that is as well-suited to urban high rises and suburban ranches as it is to log cabins and clapboard colonials.
Whether you're looking for a casual or a refined country look, keep the fireplace millwork simple: A shallow mantel adorned with simple accessories creates an understated background. For an even more authentic Early American look, install a vintage painted mantel over a firebox made from salvaged bricks or cover the mantel wall with paneling. Add classical elements to a country fireplace by using a keystone at the peak of the arch or fluted pilasters flanking the surround for a more formal country styled hearth.
Country-style interiors are natural showcases for heirlooms and collectibles. Pedigreed quilts and priceless pottery will look right at home, but don't hesitate to incorporate sentimental favorites to make this style your own. Millwork in casual country is often stockier with fewer "refining" features and fireplace surrounds are sometimes of rough masonry to give the look of having been "harvested" from nearby fields.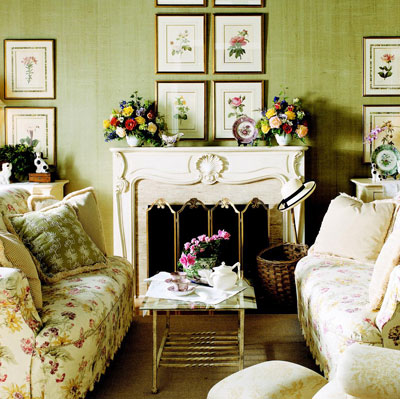 Cottage
The appealing mix of comfort, simplicity, and nostalgia that characterizes American country style also marks the interiors of many cottages lining the beaches of America's waters. The lines of cottage design are softer than country; the furnishings rounder. Soft, rounder shapes in design of the fireplace surround can give a cottage style fireplace a little romance reflect the softer side of natural. In cottage style, fireplaces are usually finished with a smooth coat of paint, not stain.
Create a welcoming cottage look by arranging faded chintz upholstered pieces and slipcovered furnishings in front of a mantel topped with hand-painted chinaware and garden-grown flowers. Paint the walls with pale shades-often associated with summers at the beach-ocean blue or green, sky blue, sandy beige, or sea-glass green. Artwork depicting beach scenes or botanical prints perfectly accent the hearth. The mantra of cottage is comfort and ease; the mantel and surround of a cottage-style hearth should convey the same attitude. A painted bead-board wall is classic backdrop used in cottage style decorating.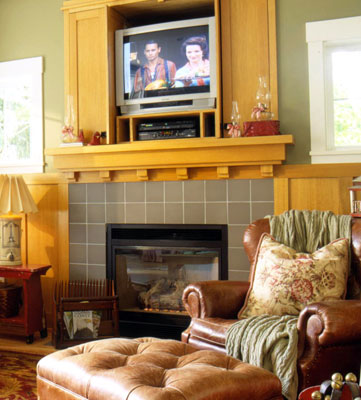 Arts and Crafts
At the turn of the 20th century, whole neighborhoods of snug bungalows with built-in bookcases, benches, and buffets sprang up furnished with the solid, austere oak furniture dubbed Craftsman- or Mission-style.
Give your fireside an Arts and Crafts appeal using a palette of cream, terra-cotta, earthy brown, and sage green. Keep the mantel and hearth design boldly simple, with square corners and a few sturdy flourishes. Tile and brick facades with plank wood mantels create the desired geometric design and solid feel. A frame of posts and beams defining the fireplace setting is another signature Arts and Crafts detail.
Choose furniture pieces with no-nonsense lines covered in sturdy fabrics with subtle patterns in rich, earthy colors; leather is a good choice, too. Cover windows with muslin or linen panels. Landscape paintings, matte-finish pottery, and lamps with hammered copper-color bases and glass shades are ideal accents. Warm wood floors with woven area rugs feature a simple handwoven design.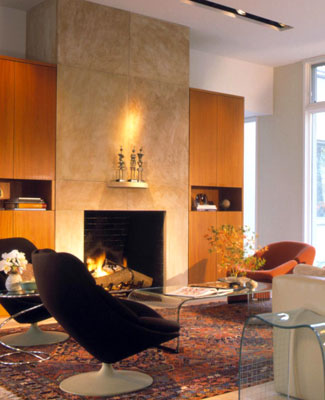 Contemporary
If you consider yourself more new wave than old world, opt for a fireplace with clean lines and subtle contours that will repeat in the room's decor. Create this cosmopolitan look by paring your room down. Bare floors, minimal window treatments, and exposed construction elements such as ceiling trusses or fireplace flues set the stage. Look for clean-lined furnishings that mix modern industrial materials with natural textures such as leather and linen along with natural look-alikes such as animal- and botanical-print fabrics.
For a contemporary fireplace, opt for a flat, natural tile surround and wall that keeps the visual lines straight and simplistic. When extra shine in your contemporary fireplace design is desired, choose a shiny black granite surround and a curved glass fire screen. Choose sofas and chairs with exposed legs rather than skirted styles; then add a splash of glass with a coffee table that reflects its stylish surroundings. Consider flanking the fireplace with flat-front cabinets in a light, subtly grained wood such as ash, birch, or maple, or with solid-color laminate fronts. In a small living area, smooth expanses of limestone and sleek cherry wood cabinets can visually enlarge a compact space.
Fireplaces have always been important stylistically, setting the tone for everything else in the room. If you're renovating an older home-or just hoping to make a new house feel old-you might want to do a little research on which styles were prevalent during your favorite period.
© 2008 Meredith Corporation