Kid's Rooms Decorating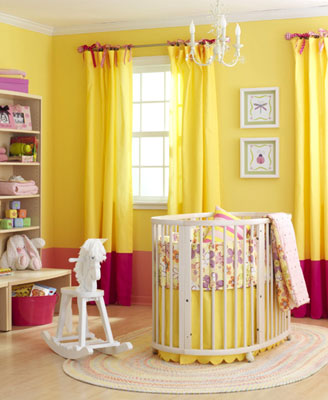 If you're like most parents, you're interested in creating comfortable, inviting rooms for your kids without blowing the budget. The editors at Better Homes and Gardens® magazines offers a variety of decorating and budget-friendly tips to get you started.
Getting Started
The abundant choices at children's decorating boutiques can be overwhelming. With so many furnishings, fabrics, and motifs, where do you start? We'll help you whittle the options to create a room that pleases you, your child, and your budget.
Before decorating a child's room, it pays to have a plan. Settle on a budget and stick to it. When deciding how much time and money to spend on the project, remember that a child can outgrow juvenile themes as quickly as he or she changes shoe sizes.
It's smart to think ahead. With every purchase and project for the room, consider how it will work as your child grows. The most efficient and cost-effective designs are those that are flexible and adapt easily to a growing child's changing needs. Be creative and make certain your child's room looks great and functions well. Consider how the space will be used and accommodate those needs. Invest in high-quality pieces for the room's key elements (bed, dresser, and desk) because these items can survive into the teen years.
When it comes to colors and themes, choose what you love for the nursery. Then, as your child grows and develops strong opinions, involve him or her in decisions about colors and themes. A cooperative process helps ensure results everyone will love. Get your child's input by flipping through books and magazines to see what appeals to you both. After all, decorating a special bedroom for your child should be a fun and creative experience you'll never forget.
Nursery Time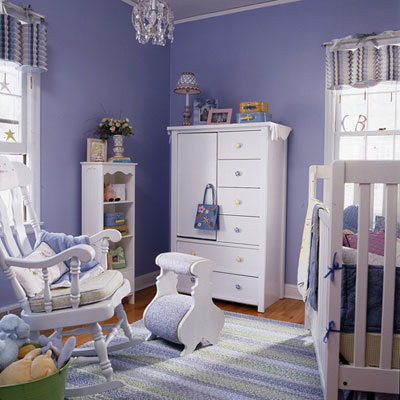 It's natural to want everything to match and work together in your baby's nursery; you want the room to be as perfect as your new arrival. First remember that the whole world is fresh for your baby, including used furniture and secondhand furnishings. Knowing this will help you stay within your budget and have fun decorating.
Save with Secondhand Furniture
To indulge your decorating urges while sticking to your budget, begin with pre-owned furniture. Good pieces for less than $50 sometimes show up at garage sales, The Salvation Army, Disabled American Veterans' (DAV) stores, thrift shops, and auctions. A little sanding and some colorful paint can transform an ordinary piece, giving it great style at almost half the cost of new furniture.
Begin by choosing pieces appropriate for any age (some cribs will convert to toddler beds and daybeds); then use baby accessories to create your nursery. Add the same stencil design to all the pieces and they'll look as if you bought them as a set.
How to Pick a Used Crib
Before purchasing a crib for your baby, take some safety precautions, especially if you're buying it secondhand.
Check that the slats or posts are no more than 2 inches apart. If the spaces are wider than that, part of your newborn's body might slip through and be injured.
The space between the mattress and all four sides of the crib should be no wider than two adult fingers.
Avoid decorative cutouts that could trap a baby's head or limbs.
If the crib is painted, check the paint for lead content. Any amount of lead is unacceptable, because a baby may chew on the crib when teething and ingest the harmful substance.
Pick a Theme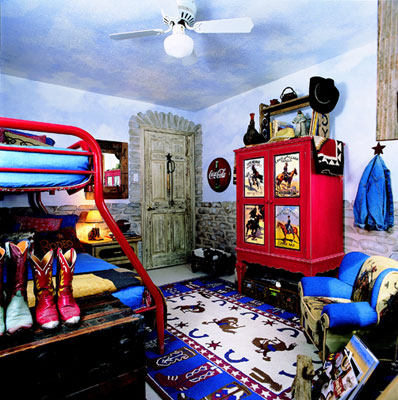 Choose a theme to help guide you as you begin to furnish and decorate your nursery. It could be a character theme – or something as simple as two coordinating colors. One popular look is a cloud motif, created by painting a room sky blue and sponge-painting clouds near the ceiling. Or create a jungle theme with painted trees and grasses on the walls and accessorize with stuffed baby jungle animals from garage sales or consignment shops.
Choose Unisex Colors
More than a patriotic theme, a red, white, and blue color scheme offers a gender-neutral solution if you're eager to decorate but don't know your baby's sex. Red, white, and blue colors are also strong enough to provide the visual variety your baby needs. Keep your primary colors in check by adding plenty of neutral white in your furnishings. This helps provide relief from the powerful punch of strong color.
Or add a few yellow accents and the primary palette is complete. Classic pairs such as blue and yellow or blue and green make a good base for a nursery that's neither feminine nor masculine. When it's time to change the room, keep one color and pair it with another for a fresh look.
Nautical, fishing, and Americana motifs are examples of themes using primary colors that withstand the test of time. Add small, easily changeable framed prints, throw pillows, or rugs for thrifty updates as your child grows.
How to Protect Your Baby at Home
Get down on your hands and knees and look at everything from your new arrival's viewpoint.
Be on the lookout for small or sharp items. Most babies will put anything they find into their mouths. Keep surfaces clear of paper clips, coins, and other small objects. Put scissors, knives, and razor blades out of reach.
Cover unused electrical outlets with plastic plugs. Keep lamp cords out of the way behind the furniture.
Move all cleaning supplies and medicine into a locked cabinet.
Beware of hot food. Always test the temperature of food or liquids warmed up in a microwave oven, because some heat unevenly.
Put away all plastic bags, especially ones that cover dry-cleaned items.
Install safety gates at the top and bottom of open stairways.
Learn cardiopulmonary resuscitation (CPR) and the Heimlich maneuver (for dislodging food or a foreign object that is choking someone) and install a fire detector.
Try Low-cost Clutter Cutters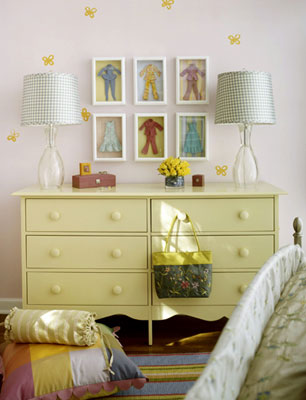 Organizing your baby's books, clothes, and toys can be a daunting task as gifts come rolling in. Forget expensive toy chests, where items often get mangled or broken. Instead use inexpensive plastic storage bins with lids – $5-$12 at discount department stores – to sort everything: one bin for books, one for animals, another for dress-up costumes, and so on.
Choose containers that are appropriate for the size of the items in each category. Plastic bins stack effortlessly in a closet or in a corner or can slide under the bed. If you want something a little more stylish, cover shoeboxes with wallpaper, fabric, or even wrapping paper, using colors that fit the nursery scheme.
If you don't like boxes or bins, consider hanging storage. Wall pockets (similar to a plastic shoe bag with rows of shoe compartments) made from fabric or painter's canvas will hold many different items. Or use a peg rack ($1 at dollar stores or $10-12 for sturdier ones at home discount centers) to hang the wall pockets. When your child ages, the peg rack can hold caps, jackets, and older kids' items.
Here are other thrifty, easy solutions for organizing small items:
Store jigsaw puzzles in freezer bags.
Use stackable plastic milk crates to hold cars and other toys.
Hang a small hammock from bedposts for stuffed animals.
Stash secret treasures (those odds and ends found in the park or on the beach) in old cookie tins.
Kids' Rooms
Kids grow up so fast. So when decorating their bedrooms, you have to be creative in your decor and your budget to keep up with their changing tastes. Choose basic furnishings, fabrics, and accessories that can adapt as your child grows, and you'll stretch your budget. For delightful accents, turn to flea market or garage sale finds and refurbish them for a few dollars. Transform your child's room into a special, personalized space.
For floors in kids' rooms, choose stain- and wear-resistant coverings that can handle spills and crayon marks. In high-traffic areas consider topping permanent coverings with low-cost, washable throw rugs that come with a nonskid backing.
Decorate Around a Mural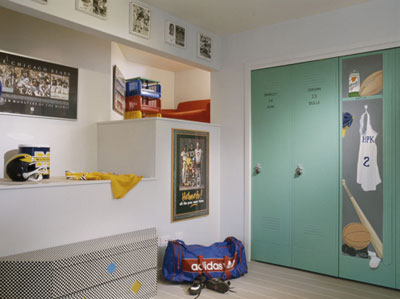 A wall mural is a low-cost way to spruce up a kid's room. You'll have fun choosing from numerous scenes, from baby animals and fairy tales to racing cars and views of outer space. Wall murals can open up your room while creating a three-dimensional visual effect that paint alone usually isn't able to accomplish.
Most murals consist of two to eight panels and are easy to hang in a couple of hours. They can be applied to a painted surface or over existing wallpaper.
To narrow down your choices, look for a mural based on your child's favorite color. Then add white, off-white, and one or two accent colors that harmonize with the furnishings. To create a monochromatic room instead, focus on one shade of the favorite color and add slight variations as accents.
Color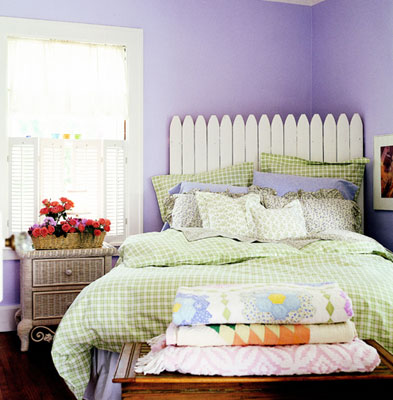 Colors can be classified as either warm or cool. If the color has yellow undertones, it's warm: orange, fire-engine red, yellow-green. If it has blue undertones, it's cool: royal blue, maroon, and deep forest green.
Here's one way to classify colors:
Warm Colors (Red, Pink, Orange, Yellow): These active colors seem to move forward, communicating vigor, cheer, and excitement. They stimulate the appetite and evoke emotions.
Cool Colors (Green, Blue, Purple): These passive colors recede into the background, cool you down, calm your nerves, and promote introspection.
Neutral Colors (Brown, Beige, Taupe, Gray, Black, White): These colors are easy on the eyes, symbolize a down-to-earth attitude, make you feel secure, and work well with other colors.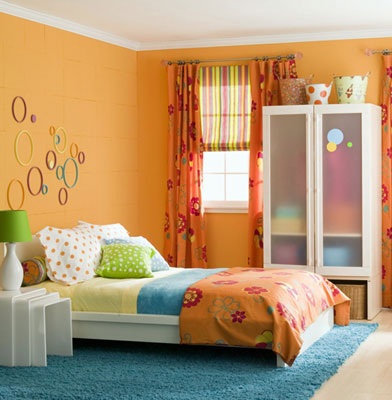 Building on a Theme
To pull off a good decorating scheme in your child's room, limit the number of patterned fabrics to three or four. Use white or other neutral colors to cool down bright tones. Let your child pick a favorite fabric, painting, or print as the beginning feature and then add coordinating basics. Add the motif to a variety of surfaces, from walls and windows to bedspreads and lampshades.
For an elementary-age child, choose furniture that's classic enough to suit future needs and decorating schemes. Add color by painting bedposts or installing new hardware on dressers and side tables. Consider the following ideas and then let your imagination take over.
If you have a budding ballerina in your family, keep a collection of outgrown ballet slippers or tap shoes. Hang the slippers from pretty ribbons on decorative hooks along the wall or use them as tiebacks for curtains. Or display used tap shoes in a shadow box.
Outgrown tutus or leotards can dress a favorite stuffed bear or two, arranged on the bed. Display black and white photographs from dance recitals on the wall or on a dresser to recall pleasant memories.
Purchase a durable plastic playground slide or teeter-totter at a garage sale ($20-$30). They will fit into a child's room quite easily and will give kids hours of fun.
Stencil a hopscotch pattern on an inexpensive solid-color throw rug and tack the rug to the floor. Purchase or sew small beanbags in fun fabrics to toss on each number as the game is played.
If your child likes maps or travel, plan an expedition to the thrift shop and hunt for old globes ($2-$15). Displayed as a group and they'll have extra impact.
© 2007 Meredith Corporation