Creating an Outdoor Living Space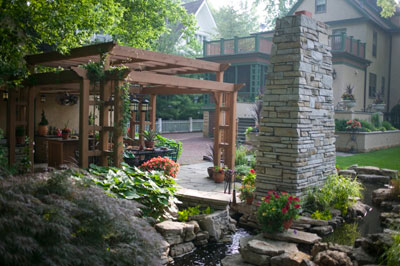 You know in your heart when you feel welcome somewhere. Often it takes just a smile and an authentic "Glad you're here." But if you're lucky, your host provides something extra – a fresh bouquet, a sumptuous pillow – that makes you feel pampered. You can surprise guests with that same warmth, too. Whether you're looking for a place to entertain, cook for your family, or unwind alone, a secluded outdoor space is the perfect antidote for hectic days. The editors of Better Homes and Gardens® share how anyone can plan a comfy and welcoming retreat that fits any budget.
Identify goals and make a "big picture" plan
Before you add a patio or deck, determine how you want to use the space. For outdoor dining? For entertaining a crowd? Are privacy and protection from sun or wind important, or is your idea of paradise a roofless room that allows you to stargaze at night? Write down your goals, and decide your budget. Then, on your own or with a landscape designer or architect, sketch out your long-range plan. Even if you'll be doing the job in phases, it's important to see the final vision.
Match the outdoor room to your home's architectural style
An informal Southwest-style courtyard enhances an adobe home, while a formal English-style outdoor room suits a traditional home. Use you house's trim color in the patio's décor to tie the spaces together.
Build enchanting entrances
Gates, pergolas, and pathways are hallmarks of romantic garden design. Provide as many of them as your lot allows – near the back door, along the side of the house, or at a junction that leads to a larger lawn. Tiny lots and apartments can get the look by attaching a trellis or pergola around the back door and planting ivy and an assortment of flowering vines at the base. Take advantage of a narrow slice of land between the garage and property line and put in an English-style pergola and gate, framed by climbing roses. Elegant architectural lines and a gate with see-through slats hint at what's inside but still offer privacy. Or, choose narrow paths of cobblestones, flagstones, or irregular stepping-stones, and iron or wooden archways strong enough to hold a myriad of plants, such as roses, Wisteria, or Clematis.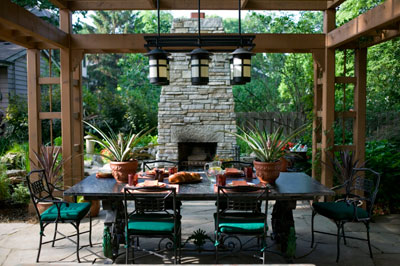 Spruce up a structure
For some homeowners, this can be the main house, especially if its size tucks comfortably into the garden. For others, it might be a garden shed, small garage, gazebo, or folly. Whatever size structure you have, ground it with plants, window boxes, and/or a pathway so the building looks natural in its setting. Perhaps your structure will draw attention to a courtyard and act as a romantic backdrop to the upper seating and cooking area. A structure gives a garden room a strong focal point and anchors the space. It's also the perfect thing to add a little charm.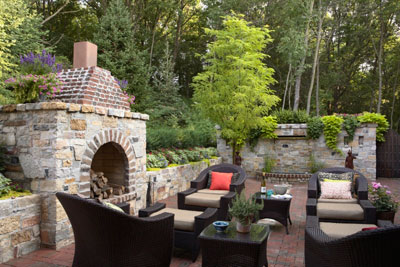 Build rock-solid hardscaping
Successful outdoor rooms call for hardscaping to give them definition and dimension. Stone walls with gentle curves and short pillars, for example, delineate areas and lend a natural, aged look. Seek out rock that's indigenous to your area, because prices will rise the farther the stone is shipped. Masonry is often 50-60 percent of a project's budget, so plan accordingly. Occasionally, rock can be salvaged from residential or city projects, so investigate what's available in your area.
Relax with water
The sight and sound of water is instinctively soothing. That's why water structures are so crucial to garden rooms. Pick a fountain, pond, bubbler, or waterfall that suits the style and scale of your space. You may opt for a wall fountain where water spills gently to a shell-shape bowl and finally into a stone-like basin. The look is important, but the sound is even more important.
Budget for landscaping
Adding plants is usually the last thing that happens in an outdoor room project, so people generally spend too little on this part. Plan to spend around one-fifth of your budget so you can buy plants that are mature and healthy to offer more immediate privacy. Ornamental trees, most of which bloom in the spring and turn colors in fall – redbuds, river birch, serviceberry, crabapples, hawthorns, and dogwoods – are a nice addition to any space. Evergreen shrubs such as boxwood and holly line paths and borders, and shrub roses, herbs, and annuals bring color, scent, and movement. Don't overlook plants for interior spaces. Potted plants bring natural beauty to indoor rooms.
You're much more likely to use an outdoor room if you incorporate elements you love. Outfit your garden rooms with elements that suit interior or exterior settings with ease. Here are some tips from the editors of Better Homes and Gardens to get you started.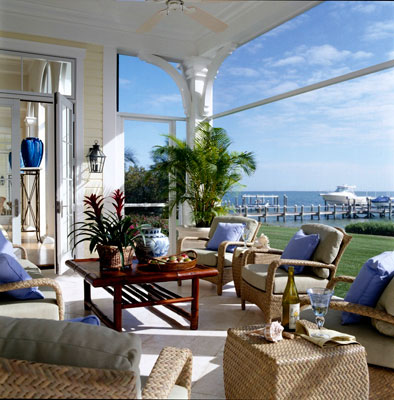 Furnishings. For durability, consider using attractive outdoor furniture in a porch or garden room. Dress up furniture with weather-resistant, no-fade fabric cushions. Use a traffic-tolerant outdoor rug to give the space an elegant, interior look.
Lighting. Light up the night with flickering candles, glowing Japanese lanterns, strings of white lights, or a sparkling chandelier. Protect interior fixtures from the elements.
Comfort zone. Because seasonal temperature swings and humidity can make garden rooms uncomfortable, integrate ceiling fans into settings to keep air moving. For south- or west-facing interior garden rooms, consider air-conditioning. Or, consider ductwork for winter heating.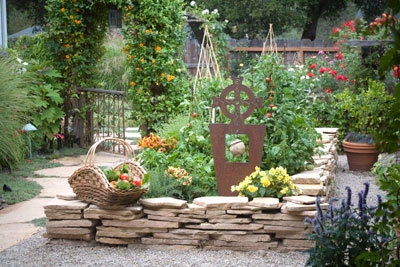 Decorative touches. Look for art or architectural pieces, such as a fountain, birdbath, or statuary that capture your interest. These pieces add personality. A terra-cotta tile floor in an outdoor garden room shrugs off the splash of a fountain or the occasional soil spill from a potted plant. A durable area rug material, such as sisal, stands up to foot traffic and pets in interior settings.
Outdoor cooking spots are one of the hottest trends in landscaping, but plan well before you fire up the grill. Outdoor kitchen design specialists at Better Homes and Gardens offer these tips.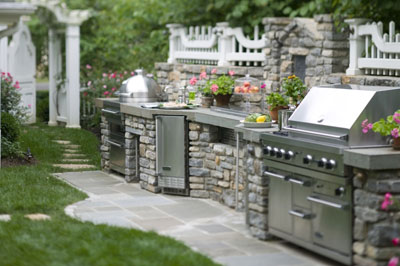 Views. Take advantage of your garden's best vistas by making them easily visible to both the cook and guests. Screen out unsightly neighboring views with a fence or fast-growing shrubs.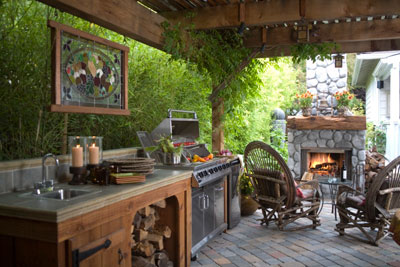 Shelter. Because most cooking takes place during warm months, it's best to locate the kitchen in a slightly shaded area or under some form of shelter. This is especially critical in hot climates, where placing a kitchen in direct sun is a sure recipe for discomfort.
Convenience. For outdoor kitchens that aren't self-sufficient, a location close to the main house often works best. Placing an outside cooking area next to your indoor kitchen ensures that you'll use it more, even in cold weather. But for fully functional kitchens, a more distant locale creates a destination feel, offering a welcome getaway from the everyday world.
Assemble the right team. Building an outdoor kitchen is a detailed, labor-intensive, exacting endeavor. The electrician, plumber, mason, and carpenter all have to be aware of the issues and ask the right questions. Talk with reputable architects, designers, and landscapers to find people who have experience in the field. Because electric, water, and gas lines are typically brought to the outdoor kitchen from the service in the house, locating the kitchen farther away can drive up the budget.
Wind flow. Keep in mind that smoke blows downwind of a grill, so avoid placing the grill directly in line with dining areas where smoke could cloud conversation. One option is to keep your grill out of the main dining area.
Bring these time-saving, money-saving, space-saving, work-saving ideas home to your backyard.
© 2009 Meredith Corporation