Ceiling Chic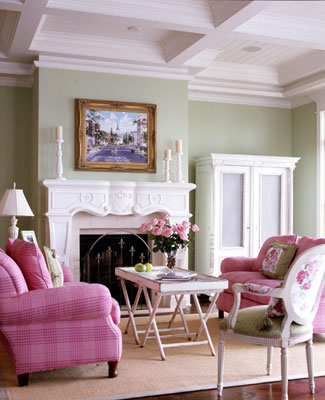 Whatever your home's style or your building budget, you can have sophisticated, stylish ceilings without getting in over your head. Let the editors from Better Homes and Gardens® magazines give you a few ideas to take your ceilings to new heights.
Many people don't give much thought to ceilings, beyond the shade of white they should be painted. The fact is, creative ceiling treatments add personality and style to a home. A ceiling can define a space, add a custom element, and affect perceptions of a room.
Ceilings have been an overlooked area in architecture for many reasons. The modernism movement of the 20th-century touted simple design, and simple economics dictate that a flat, plain ceiling costs less than a fancier version. But the effort involved in producing stylish ceilings is worthwhile. Well-done ceilings add resale and aesthetic value to a home. Today, there is renewed interest in decorative ceilings.
Ceiling treatments can be dramatic. You can raise, lower, or angle a ceiling, or expose and embellish its structure to add interest that's limited only by building technology and your budget. On the other hand, simplicity also can be effective. Painting a ceiling with vibrant colors, stenciling, using moldings, or wallpapering are all easy-to-execute ceiling options that won't break the bank.
Think of the height of the ceiling. Go big if you want an airy, lofty feeling-especially used for entryways. Lower ceilings will help to create a more cozy, intimate feeling in the room. Some people prefer lower ceilings in the family or dining room. These rooms are used as family gathering spots.
Vaults, beams, and exposed structure lend rooms volume that can't be achieved in any other way. There are many options available to you. Budget can be a deciding factor when upgrading your ceilings.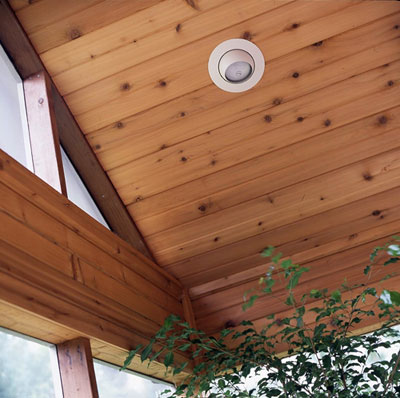 Windows take this vaulted ceiling to new heights; wood and sunlight lend warmth to a room. The natural finish on this knotty-pine living room ceiling conveys rustic informality.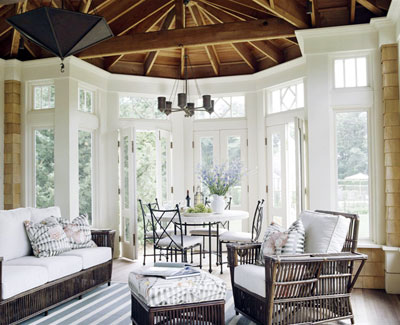 A grid of naturally-finished wooden beams creates a striking contrast to the white woodwork and furniture in this room. A wall of windows allow lots of natural light into this room to help keep this room from becoming too dark because of the wooden ceiling.
Unlike older houses, today's homes have the benefit of more incoming natural light from a greater number of windows. An advantage of this is that dark colors can be used in a well-lit room without compromising the room's sunny disposition. Think of this when starting your remodeling or new home project. Also, notice which side of your home these windows are on as southern and western facing windows allow more daylight sun to enter.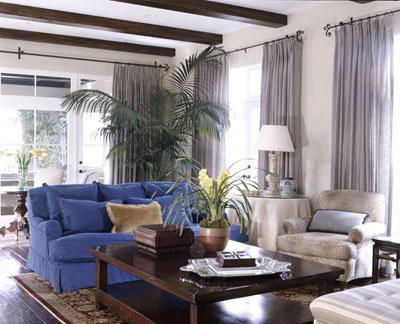 A rustic yet refined flavor is evident with the addition of these dark-stained wooden beams. The beams are a stand out against a basic white ceiling.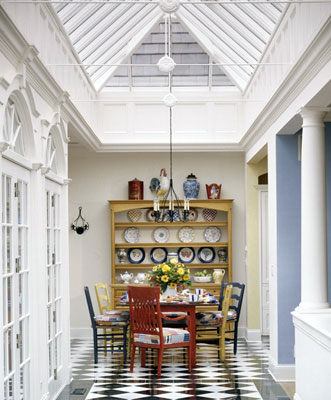 A vaulted ceiling of windows allows this room to always be filled with sunlight. It creates wonderful drama to a room, but also be cautious of the additional heating and cooling needs.
Flat ceilings can still have flair with creative use of colors, moldings, and alternative materials. They still can call attention to themselves, so decorate them as though they were a fifth wall.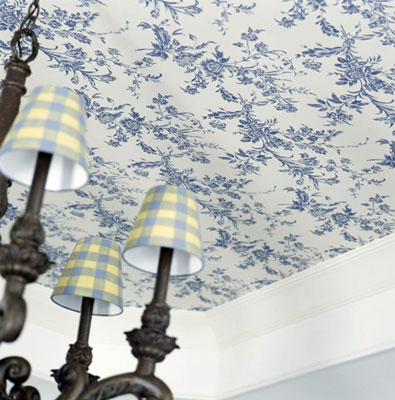 Here, white molding separates the ceiling from the walls. Create a dramatic look on your ceiling with minimal costs by covering your ceiling with wallpaper. Select a classic design that creates interest, yet won't overpower the room.
An option to covering the whole ceiling with wallpaper is to place a wallpaper border between two pieces of molding on the ceiling.
Whatever ceiling architecture you desire is available. Just remember to think of it as part of the room and how it will relate to the other four walls, floor, and the furnishings.
© 2007 Meredith Corporation