Basement Planning with Egress Windows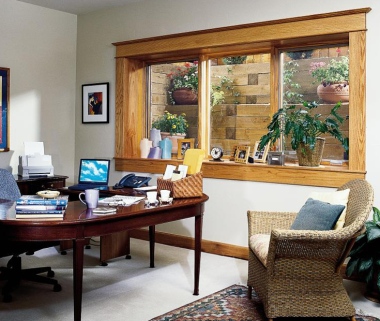 Whether you need an extra bedroom for guests or for a growing family, more room to entertain, or a home office, hobby room, or workshop, creating new spaces in your home is an exciting adventure. And often the best place to start looking for more living space is in your basement. Let the experts at Better Homes and Garden® offer you some tips on planning new basement spaces and the importance of egress windows.
Making a Plan
Almost all basements are good candidates for remodeling. They contain large quantities of unused space which allows you to design it for almost any use. Along with their potential versatility, basements have a few restrictions, especially in older homes. There might not be enough headroom or floor space to meet local building code requirements for occupied spaces. You may have to reroute wiring or plumbing. In many cases the space will actually be too big and too open for your proposed use so you'll have to divide it into smaller sections with partition walls.
Modern trends in basement finishing are different from the sparse wood-paneled recreation room or subterranean bedroom and bathroom of the past. Plus bedroom, comfortable and stylish baths, expansive family rooms and cozy dens are now the rule.
Perhaps this move toward creating more luxurious and livable space is normal evolution, but the unique characteristics of the basement have certainly played a role. A basement, for instance, offers space that's separated from the more public spaces of the house but is still close by. Or the basement can become the home's public space with insulated ceilings and soundproofing that allow you to enjoy all kinds of family activities without disrupting the use of other areas of your home.
Planning for a Basement Bedroom
Your first consideration when planning a basement bedroom should be size-make the room large enough to house the bed, dresser, and other furnishings to complete a bedroom. And provide plenty of closet space. Although the minimum bedroom size required is only 80 square feet, allow about 125 square feet to comfortably fit a double bed. If you've got more space to use, we recommend even going a little larger.
Basements generally stay cool even in hot climates, so air-conditioning usually is not a factor, but consider it if you have a problem with condensation. If you don't have a walk-out basement you'll also need to install an egress window.
Building Codes for Habitable Rooms
A habitable room is one used for sleeping, living, cooking, or eating. Closets, hallways, baths, laundry and utility rooms are not habitable.
Room size: Habitable rooms must have at least 70 square feet of floor area (50 square feet for kitchens) with one horizontal dimension of at least 7 feet.
Ceiling height: Habitable rooms must have ceiling heights of at least 7 ½ feet in 50 percent of their areas (7 feet in kitchens). The ceiling height can't be less than 5 feet anywhere in the room. Beams and girders spaced at least 4 feet on center may hang a maximum of 6 inches below a ceiling.
Exits: Sleeping rooms must have at least one exterior door or an egress window that can be opened. Egress windowsills must be 44 inches or less above the finished floor. The window must have a minimum clear width of 20 inches, a minimum clear height of 22 inches, and a minimum clear opening of 5.7 square feet or 8 percent of the total floor space.
More Tips for Planning New Basement Space
Here are some more ideas to consider when you plan a bedroom or other habitable space in the basement:
Include plenty of window area for light and ventilation. Window area equal to one-tenth of the room area is a design standard.
Because exterior basement walls are load-bearing walls, you must provide adequate support for the wall above the window.
Install a light switch immediately inside the door and three-way switches at the top and bottom of the stairs.
Change awkward stair configurations for convenient entry and exit of the rooms.
Install hardwired smoke alarms and a carbon-monoxide detector.
Soundproof the basement ceilings to keep family noise out of your private retreat.
Consider a full- or half-bath close to the bedroom.
The Window Well
Don't forget the importance of a proper window well. Here's a few important tips on window wells:
Before cutting into the exterior wall to install an egress window, plan and excavate a new window well. Complete this task first!
A window well should have its top edge 6 inches above the soil line.
Install gravel and a drainpipe in the window well.
Fit a ladder or steps inside the window well for access.
Basements can be great additional living space for your family to enjoy. Just remember to check proper building codes as you plan out the space.
© 2008 Meredith Corporation