Art Accessories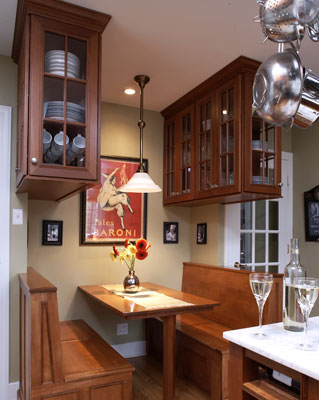 A truly successful kitchen does more than function well, it has personality. The kitchen experts at Better Homes and Gardens® magazine have tips to give your kitchen unique character. In composing a kitchen style, don't stop designing after the cabinets, countertops, and appliances have been selected. Nudge your imagination into action, and treat your kitchen as an artist's canvas.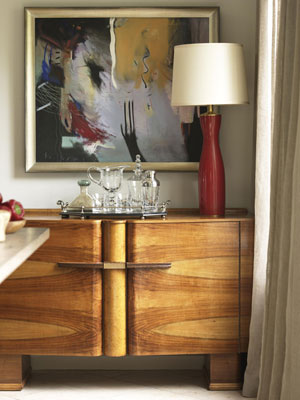 Don't banish artwork to more traditional display areas. Instead, look around your house for design ideas to bring into the kitchen. Framed prints can embellish carefully selected colors, fabrics, and surface material throughout the kitchen. Small painting might adorn a soffit. Larger pieces can enhance dining area walls. If framed prints seem too typical, consider a mural to spark conversation.
Little Things Count
Often, it's the small touches that have the greatest effect on a decorating scheme. Because accessories are the most personal part of decorating they should be chosen and displayed with care. Accent items should reflect your personality. Accessories don't have to be one-of-a-kind. If an item has meaning for you, it's worthy of attention.
Don't be shy about showing off your treasures. Beautiful dishes, mementos, heirlooms, or trinkets encourage guests to linger while the host cooks or cleans.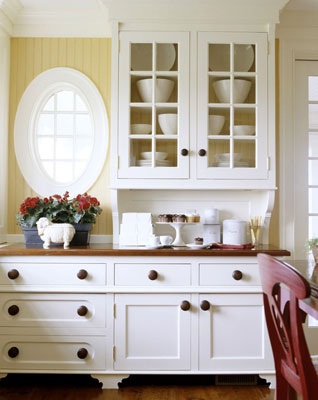 Glass-front, china, and armoirelike cabinets are perfect for displaying collections. Spaces above cabinets also offer room for displays. Almost any collection can find a home in the kitchen. When arranging objects, keep scale and balance in mind and don't overcrowd. To call attention to your collection, especially at night, consider spotlights or specially designed display lights.
Where to Start
Go on a treasure hunt in your own house. Chances are, you'll come across an interesting object. Once you're sure you've unearthed all your home's hidden treasures, visit art galleries, antiques stores, and accessories shops. You'll develop a discerning eye. Experiment with arrangements; rotate things into the kitchen from other rooms.
Vignettes are small scenes in a large setting. Countertops and other surfaces are candidates for vignettes. The idea is to create a composition that invites viewing and stirs interest, even if just in passing.
There's lots of ways to accessorize your new kitchen! Just be a little bold and add a dash of creativity. We promise you'll enjoy your kitchen more after the accessories are in place.
© 2009 Meredith Corporation