Adding Accessibility to a Kitchen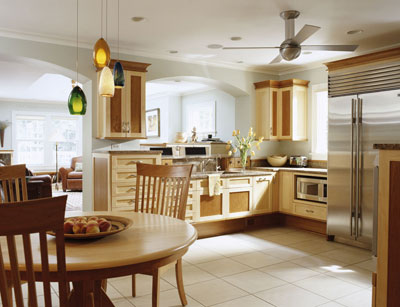 Adding special features to your home can help you live there longer and more comfortably – no matter what age you are. And you don't have to give up style! Universal design features help everyone live well. Let the editors from Better Homes and Gardens® magazines show you how to pack kitchens with convenient features to make life a little easier for people with disabilities.
There are lots of ways to make a kitchen more functional without making it look institutional. Design an open floor plan that works well for a family, and at the same time, offers plenty of space for a wheelchair to be moved around the room with ease. Here are some important tips to remember when creating a new kitchen with adaptive, unobtrusive features that make it comfortable for a person with disabilities and the rest of the family as well.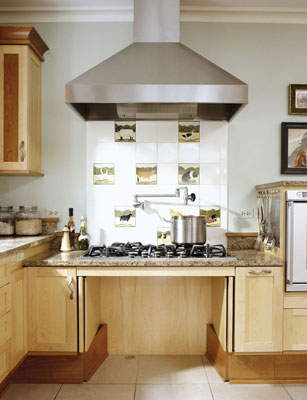 Open space below a lowered cooktop accommodates a wheelchair, while custom cherry and maple cabinetry creates a sophisticated look.
Take measurements of the homeowner sitting in his/her wheelchair to determine the correct heights for things such as toe-kicks and countertops. One inch can make a big difference in whether something works or not.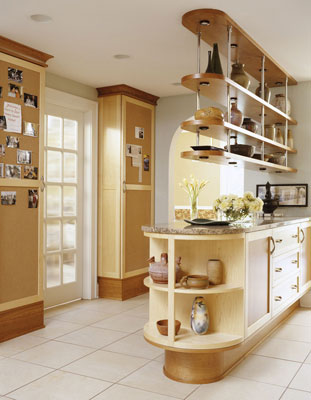 Kitchen storage is an issue to think about because much of the room's floor space is needed for wheelchair maneuverability. A peninsula can be a key element in keeping needed essentials hidden but accessible. It houses drawers and cabinets that are low enough for people to reach easily.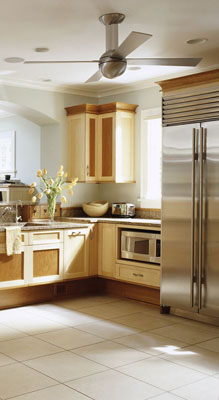 Multiple sclerosis sometime makes people sensitive to heat and humidity, so chose smooth, cool porcelain tile for the floor and install a ceiling fan to keep air moving.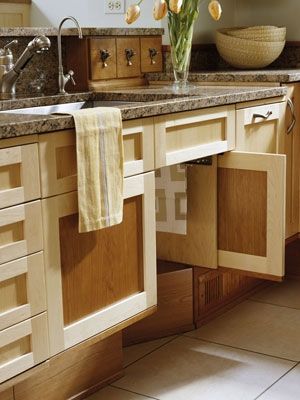 The sink and the peninsula in this kitchen are 30 inches high rather than the standard 36 to allow wheelchair accessibility. Open spaces beneath the sink and cooktop are disguised by custom-designed pocket doors, which look just like the rest of the kitchen's cabinetry when closed.
This pullout shelf near the sink is equipped with space to hold a bowl, making it easier to toss salad or mix ingredients without steadying the bowl.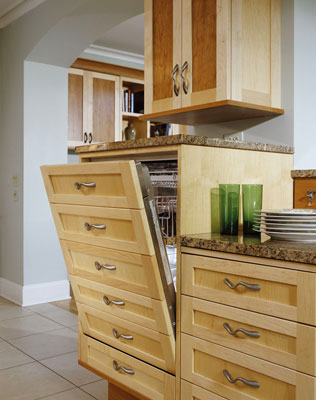 The dishwasher is raised a bit higher than usual to cut down on the amount of bending needed to load it. When closed, the custom front panel blends easily with the rest of the kitchen cabinetry.
Though universal design guidelines call for toe-kicks that are 83/4 inches high, measure the person's feet in his/her wheelchair before building. This is to avoid having the person remove his/her feet from the wheelchair footrests when pulling up to cabinets.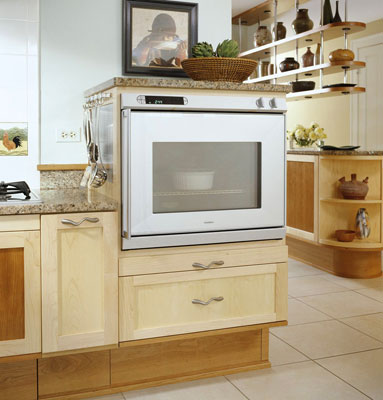 The oven is lower than a standard wall oven and opens from the side like a refrigerator. An oversized cutting board under the door pulls out to give added prep space or room to rest heavy dishes.
Other Smart Ideas and Tips:
Single-lever faucets are easier to grasp and control, especially for people with arthritis.
Lever door handle are the choice to install instead of door knobs on interior and exterior doors.
Cabinet pulls in a C or D shape are easier to grasp than knobs.
Side-by-side refrigerators make access easy for everyone. No trying to reach the freezer section at the top of the refrigerator.
A kitchen cart keeps utensils easily accessible and move your work space where it's most convenient.
Install full-extension drawers and pullout storage accessories to minimize bending and reaching.
Choose a range with staggered burners and front controls so you don't have to reach over open flames.
Widen your doors to at least 32 inches. A 36-inch-wide doorway makes maneuvering wheelchairs even easier.
Create a no-threshold doorway, or at least make sure the threshold is no higher than 1/2 inch.
Include a bench near the entry where you can sit down and take off your shoes or set down groceries and packages.
Pocket doors/retractable doors create a wide doorway that is more accessible for everyone.
Install indirect lighting that provides less glare and is easier on aging eyes.
Slip-resistant flooring: Look for textured flooring that's not highly polished.
Install light switches 44-48 inches from the floor. Electrical outlets should be at least 18 inches above the floor.
Choose casement and awning windows that open with a crank.
A home with accessible features is more convenient for the young and old alike. Work to ensure your finished kitchen will make everyone feel welcome.
© 2007 Meredith Corporation