UPC 750839023007
$79


Upgrade Options
View Product Demo
View Samples
Compare Products
What's New in 2014?
Deck & Landscape Design Software
Powerful Outdoor Home Design Software
With Home Designer Landscape & Deck by Chief Architect Software you can plan and design your perfect outdoor living space. Landscape & Deck makes it easy to quickly design the virtual look and feel of your backyard, deck, patio, pool or other outdoor projects. Just point-and-click to add pre-arranged landscaping beds and any of over 3,600 realistic plants to your design. Design that new deck and create a complete list of materials.
Create beautiful landscapes, terrain features, gardens and decks for your perfect outdoor living space!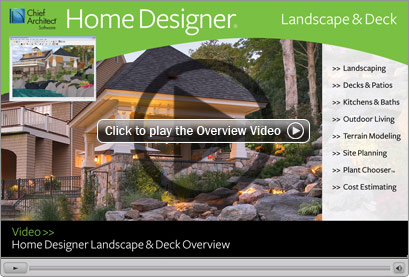 Fun & Easy Landscape Software
Landscaping & Deck Designer makes it easy to design your next outdoor project. Use valuable resources like Plant Chooser to learn more about plants, including bloom time, water and sun needs, height information and more. Choose from over 3,600 plants, trees and shrubs to place and arrange in your outdoor living space.
– Create the Virtual Look and Feel Before You Build!
Deck & Patio Software
What will my deck or patio look like and how much will it cost? Home Designer knows! Save Time and Money Before You Build
Design single or multi-level decks including free-standing, tiered and post-and-beam
Automatic deck framing tools with advanced deck framing for more advanced deck designs
Define the details for your decking – borders, planking direction, overhang and planking gap
Use the automatic tools for adding stairs, ramps, deck railings and covered patios
Choose from a variety of railing styles – panels, cable, glass or a variety of other styles
Deck foundations automatically generate to match sloped lots
Estimate costs and generate cut and buy lists for your decking projects
Create patios with concrete slabs or apply the latest materials like slate, tile or stone and create a complete list of materials
Place and arrange outdoor furniture to help you correctly size your deck or patio
Generate various styles of Automatic roofs or cover with a Pergola
Over 3,600 Landscaping Plants
Get started quickly by choosing pre-arranged garden beds to place into your design
Choose from over 3,600 realistic plants; import photos of your own plants – view a sampling of plants
Plant Chooser™ to quickly locate and learn detailed plant information
Plant Hardiness Zone maps – North America, Europe and Australia
Advanced plant searching by sun, shade, watering, deer resistance and more
Plant Growth slider tool – visualize how your plants will look in 3, 5, or even 20 years from now
Search for plants based on a variety of attributes: bloom time, water and sun needs, height information, plant type and sub-type, color, hardiness zone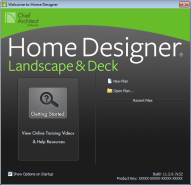 Get Started Quickly & Easily
The Quick Startup Options Guide will help you begin with "How-To" tutorials based on the type of your project
Select from the pre-designed Landscaping, Deck and Pool Templates
The online help system provides detail information on all types of building projects
Includes over 40 easy "step-by-step" tutorial training videos that will quickly get you started on your next home design project
Plants & Landscaping
Choose pre-arranged landscaping or flowerbeds for inspiration to jump start your design ideas
Use the Replace from Library to choose a group of plants and replace with another
Import digital photos and personalize your designs. Import family photos or backdrops of your lot for realistic 3D views
Drag and drop thousands of items from the Library Browser. Choose plants, pavers, windows, doors, outdoor accessories, textures, furniture and more. Download Bonus Catalogs from our website
Use the Distribute Plants tool to auto-populate your gardens and flowerbeds
Use the built-in Plant Schedule as a list of plants for your landscaping project – by common or scientific name
Outdoor Design Tools
Choose from several styles of templates – decks, landscaping, pools and terrains to start your next deck or landscaping project
Design in 2D and 3D. 3D Views are automatic – just point-and-click with the camera tool. You can even use Glass House™ view to see through surfaces
Create a Virtual Tour – draw your record line to Automatically Generate; or record your camera movements
Visualize designs with day and night views
Generate shadows from the sun for realistic 3D views
Choose from a variety of styles of outdoor furnishings including tables, chairs, swing sets, or import your own. Easily change the size and color
Use the Pathway or Stepping Stone tools to design curb-appealing landscaping using stone or pavers – line with trees, shrubs, and flowers
Material Painter® lets you apply colors and materials quickly and easily
Choose from thousands of colors and textures or create your own materials using a digital photograph
Terrain Design Tools
Ponds & Streams – Create water features for your landscaping projects using the Stream or Pond tool – simply click to place and then resize
Terraces and Terrain Walls – Use the Terrain Wall Tool to create terraces or divide your Terrain slopes
Contours and Elevations – Drag elevation lines or set specific elevation points to create your contoured lots
Use Automatic Build Terrain and Terrain Perimeter tools to create flat, irregular shaped or sloped lots – use a GPS to import or enter elevation data
Site Planning Tools
Create plot and perimeter plans; automatically generate a 3D model of your actual terrain
Virtual Graph Paper™ displays a grid for 2D planning
Sprinkler Designer™ tools to easily layout sprinkler zones
Fences, Driveways and Sidewalks follow terrain contours
Hill and Valley tools make it easy to add gardens, beds and slopes that automatically appear in 3D views. Choose from landscaping style templates or create your own
Define Terrain Elevation lines, Elevation Regions and Terrain Breaks
Automatic Terrain Perimeters – customize to define your specific lot
Plot and perimeter plans – flat and sloped lots
One-Click™ Hill and Valley tools
Create terraces with retaining walls that follow terrains and can break the terrain
Manual dimension tools measure any distance including dimensioning to individual plants
Includes Free Online Tutorial Videos – with over 40 How-To Videos
System Requirements:
Windows® 8 / 7 / Vista / XP
2.4 GHz processor
2 GB of Memory (32 bit OS)
4 GB of Memory (64 bit OS)
256 MB of dedicated video memory, supporting OpenGL 2.1 or higher
High speed Internet for: registration, video access, content download
6 GB of disk space


Made and supported in the USA.